Choice of category: Games & RPG
Choice of a title:Destination Gamer - A Game For Everybody
Forum address:
http://www.destinationgamer.com
Main language: English
Forum description: A worldwide multi-gaming community. Destination Gamer hosts various gaming nights for the casual gamers. Over 18s only.
Admin:
Batch
Moderators:
None as of yet
PS3 Staff:
Gamer4Life
Xbox 360 Staff:
IAmProjectAlice
Forums

Destination Gamer Blog


Guest Forum


DG Information & Announcements
Who Are Destination Gamer?
DG Code of Conduct
Announcements
--> Member Announcements
Introduce Yourself
DG Youtube Channel
Feedback / Suggestions

Gaming Sessions
Gaming Sessions
Game With Everybody
Minecrafters Paradise
DG Poker Club
Challenge Arena

Video Gaming
General Gaming Discussions
Gaming News
Member Game Reviews
Minecraft Discussions
Xbox 360
PS3
Wii
PC
iPhone / iPad / iPod Touch
Retro

General Chit-Chat
General Discussion
Rant Corner
Gadgets
--> iPhone / iPad / iPod Touch
Tech Discussion
Entertainment
--> Humour
DG Gallery
Destination Gamer Inn
The DG Bay
Screenshots of Destination Gamer
Portal (Home):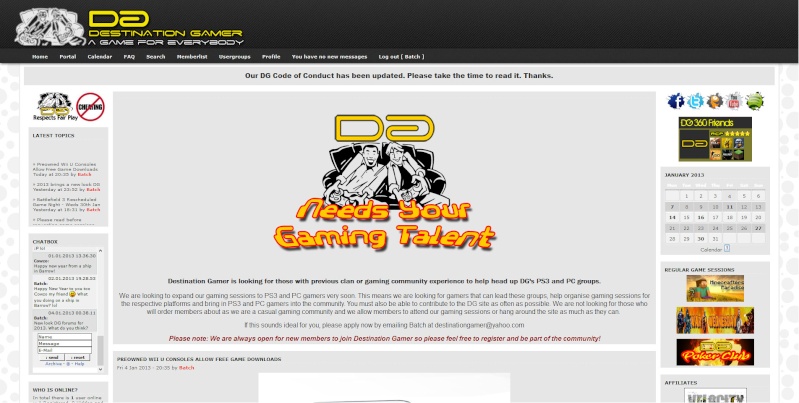 Forum Index Page: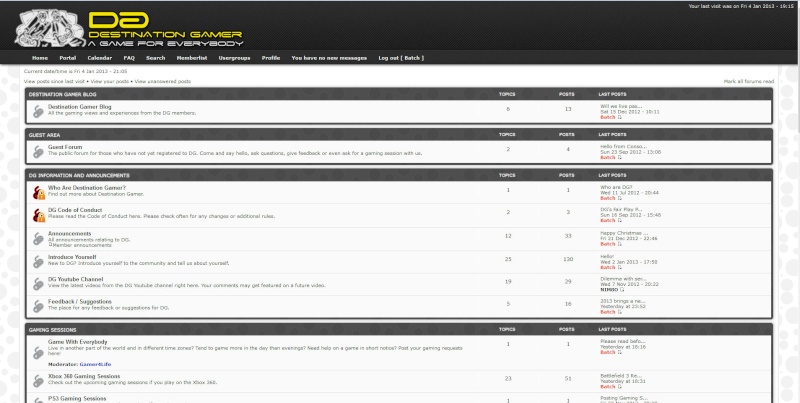 Statistics
As of 06/01/13 14:43

Affiliates are welcome to apply!
Last edited by Batch on January 15th 2013, 9:21 pm; edited 5 times in total (Reason for editing : Updated presentation)
Base, everything is within ToS for Forumotion. The bit about over 18s is only referring to the age that we accept members onto the site as aiming for a mature community, than have 16 year olds or less join up and cause issues when they join party chats on Xbox Live, PSN etc.
New Year, More Gaming Action!

Destination Gamer needs gamers out there to help build our gaming community up. Are you a PS3 or PC gamer and have previous gaming community or clan experience? We are looking for you to help head up the PS3 and PC gaming areas of DG and start gaming sessions.

If you are interested, please head to the site by clicking the link in the original post above.

We have a few gaming sessions already planned for this month. These are:-

Mon 7th at 20:00 GMT - Minecraft Survivor (Survival mode night)
Fri 11th at 20:00 GMT - Texas Hold 'Em (XBLA)
Weds 16th at 20:00 GMT - The Darkness II: Vendetta Co-Op
Sun 27th at 20:00 GMT - Borderlands 2 Co-Op

I hope to see you gamers join up and participate in some gaming fun!

Updates:

> Original post updated with more presentation
> DG site got a spruce up for 2013. Let me know what you think of it.
> New staff member on board to help start and run gaming sessions for PS3 gamers.
Added statistics to original post. The statistics will be updated every so often.
Amended forum list in original post to match the amended / additional forums on the site.
New Xbox 360 staff member on board. Please see original post.
---
Permissions in this forum:
You
cannot
reply to topics in this forum