I created a new group in "Group Administration" for the purpose so I could add one particular member to it so I could prevent them from posting in a particular forum. The problem is when I go to the forum I want to prevent them from posting in the permissions for that group are greyed out so I can't "untick" the box so they can't post in it. I can't create a group that has less permissions than a regular member does. Anyone know a workaround for this so I can stop a member from posting in a particular forum?
Last edited by runawayhorses on Wed 27 Nov 2013 - 16:56; edited 1 time in total
First make a new member group with autosubscribe of 0 posts. This way, the default member group becomes a group that is created by you.
This erases the compulsion of keeping the boxes checked for default member group.
Forum

Guru






Posts

: 48766


Reputation :

2830


Language

: English


Location

: Mumbai



I tried that, and when I created the new group with autosubscribe of 0 posts it added all my members, so I removed everyone but the member I wanted to block posting in a forum. I then went to "Forum Permissions Control" and selected the forum I wanted to change the permissions for, and the only way I could make the box by the group unticked was if I unticked Members. I want the members to be able to post in that forum, just not that group I created, and I can't untick that group from posting unless I untick all the members from posting.
What Sanket meant by making a group which auto subscribes at 0 posts, is that it should act as the new "Members" group.
See here: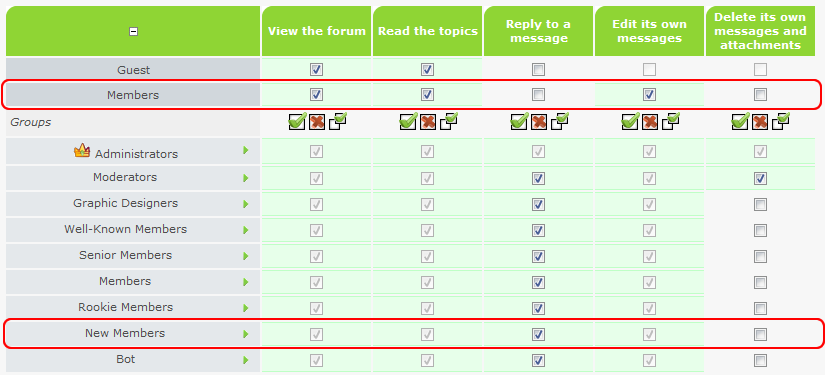 I've taken away the ability to reply to messages from the original members group however, I've given the ability to reply, to my new default members group.
We can then make our group for the naughty members and take their ability to post away. We of course have to remove them from our default members group.
Foru

master






Posts

: 13244


Reputation :

2995


Language

: English & 日本語


Location

: Pennsylvania



You're welcome
Topic Solved and Archived
Foru

master






Posts

: 13244


Reputation :

2995


Language

: English & 日本語


Location

: Pennsylvania



Similar topics
---
Permissions in this forum:
You
cannot
reply to topics in this forum