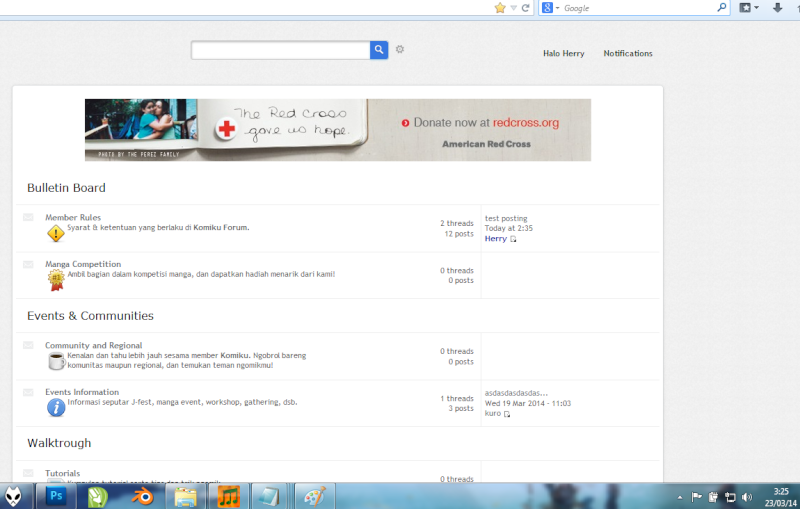 This is the my header display, it all looks fine.
however when coming into topic post, so it looks weird  

seem rather ride and nothing notification  

please help me  

Last edited by kumotta on March 23rd 2014, 1:23 am; edited 1 time in total
That is a google ad, the only way to remove the ads is to pay for it. You can do so at:

AP>>Misc>>Credits management

You buy credits then spend them on removing your ads.
Hello kumotta,

The reason this is happening is because one of your scripts has an error which may be placed in the topics.

The following error I get is :
qr is null

I would go through your recently added javascripts to find the one which is causing this error.
@Ange Tuteur

wrote:Hello kumotta,

The reason this is happening is because one of your scripts has an error which may be placed in the topics.

The following error I get is :

qr is null

I would go through your recently added javascripts to find the one which is causing this error.
then, what should I do?
I have thought about this all night, but could not fix this as well...
Please, help me solve it.  

Administration panel > modules > javascript codes management

Edit and disable each script one by one to rule out the one which is causing the error.
@Ange Tuteur

wrote:Administration panel > modules > javascript codes management

Edit and disable each script one by one to rule out the one which is causing the error.
thank you very much  
   the problem at quote - quick reply  

topic solved  
You're welcome
Topic solved and archived
---
Permissions in this forum:
You
cannot
reply to topics in this forum