Hello, this maybe a silly question, but is it possible to have the groups icon/image in the online list for the chatbox?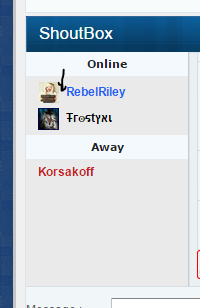 @Ange
I'm sure you can help with this silly bit lol
Thank you!
Add the following selector to your current icon ruleset. Make sure to change the color.

Code:

#chatbox_members span[style="color:#00A86A"]:before
@Ange
thank you sir worked perfectly! Solved!

You're welcome

Topic archived
---
Permissions in this forum:
You
cannot
reply to topics in this forum