I've been looking around the boards and cant find an answer to this, so forgive me if this has been posted previously
Is there any way to find out who has given negative rep on a post?
Also I remember the stats of our group being set so you could see how many negative rep a member has given so I know it can be done, but I cant figure out how to do it again

I have seeen this post
https://help.forumotion.com/frequently-asked-questions-f5/the-advanced-profile-t38433.htm
and I know the advanced profile is activated, but all I have in members profile stats areTopics, posts, vistor messages and Information...nothing about how many rep given or received.
Any help gratefully received
Lea75
No way to find out who has given negative rep.

KingOfSports

Hyper

active






Posts

: 2487


Reputation :

38


Language

:


Location

:



ok thanks...didnt think so

do you know how to show in member profiles how many rep they have given?
This is already done in the profile under stats.
not on mine...this is all I get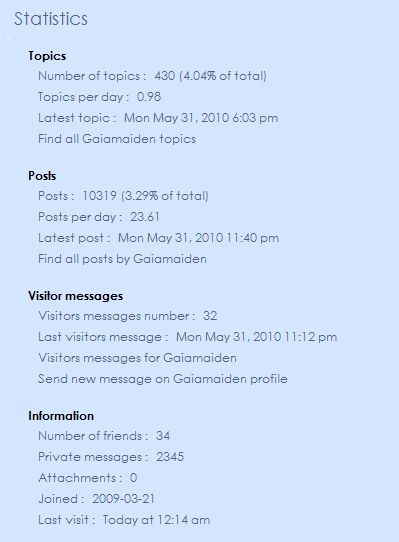 Do you have the following?
thanks I didnt have it set for profile..I waws having a dumb moment...thanks for your help
Since this thread appears to be solved, I will lock this thread and mark it as solved.



Sanket

---
Permissions in this forum:
You
cannot
reply to topics in this forum