The role of the 4 boxes



Inbox: This is where you find the messages the members sent you. When the maximum storage is reached, the oldest one will be dropped automatically. You have the option to either save a message or to delete it.

Sentbox: This contains the messages that you sent to another member and that the recipient has read already.

Outbox: This contains all PMs that you have sent already, but that have not been read yet. A message in the Outbox is already sent, it just waits to be read by the recipient. Once read, the message goes to the Sentbox. So you can exactly say, which messages have been noted already and which haven't.

Savebox: The box where important messages can be saved. For that, select a message in any other box by ticking the checkbox and click on "Save Selected". Those PMs will be moved here if you have space left.

Enable/Disable PMs in our forum

For the ones who don't want their members to send private messages to each other, go to Admin Panel > General > Forum > Messages & Email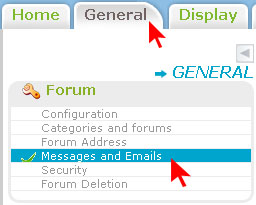 Private Messaging > Tick Enabled or Disabled



Set the capacity of the Inbox and the other boxes

It is possible to restrain the number of PM's, that members can keep in their PM boxes.

Go to Admin Panel > General > Forum > Messages & Email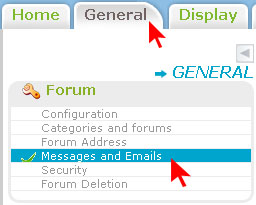 Set the capacity of the four boxes.



The maximum capacity is 200 PMs per box, this cannot be increased.

Can I disable the PM function of a single member?

Of course! It might occur that a member abuses the PM function: advertising, spamming, even harassment. In this case, to care for your members, it's better to prevent him/her from causing trouble. To disallow them to use PMs, follow the instructions below. However, it is possible that the member gets mad and begins to flood directly on the forum. In this case, it is possible to even ban them.

Go to Admin Panel >> Users & Groups >> Search Users
Click on the troublesome member to open his profile. At the bottom of the page, in the Special Admin-only fields, tick "No" for Can send Private Messages.

If the user behaves well, it is of course possible to give him the rights back to use PMs. Go to the same place and tick YES instead of NO.



This tutorial was written by the Forumotion Team.
Updated by Sunny_D || 20. 07. '08
Updated by Base || August 1st, 2011
Updated by buttercup on August 06th 2015

The Godfather

Admin

istrator





Posts

: 4986


Reputation :

826



Similar topics
---
Permissions in this forum:
You
cannot
reply to topics in this forum