Respected sir,
Being an engineer & running an engineering forum people do ask a lot about Mathematics; an engineering language you can say. They have to write Calculus eq.s trigonometric functions & what not. I have seen that it is possible to add Latex code in phpbb; kindly advise me how to do so [if its possible]

regards;;
Last edited by ioncube on May 1st 2011, 4:44 am; edited 1 time in total

BeBot

Foru

me

mber






Posts

: 136


Reputation :

40


Language

: English



sir I am afraid I can't understand you
You can't add what you want here.

BeBot

Foru

me

mber






Posts

: 136


Reputation :

40


Language

: English



Hi,

This is a request we already considered in the past, but due to small demand it was decided not to implement it.
Hey Typlo thnx for lloking at my question; may be the request is small simply because technical forums are outweighed by IT/Entertainment forums...
but yes if you could take this suggestion seriously for mathematicians like us..\
However for others I have found a work around by integrating online LATEX editors with wibya toolbar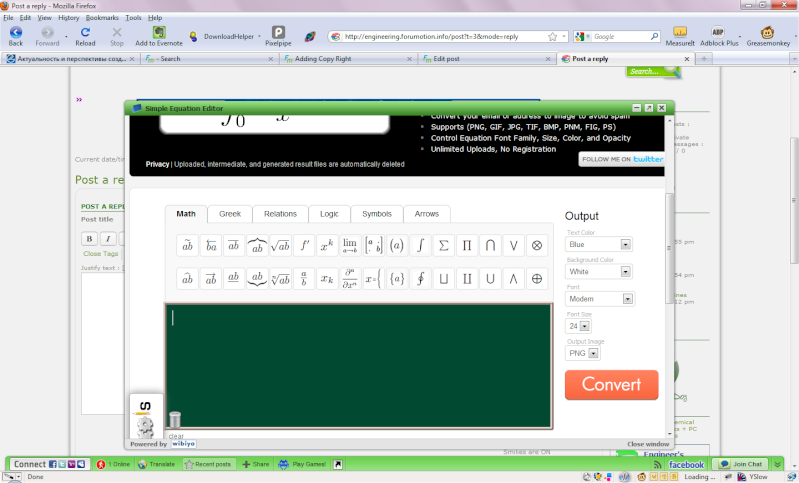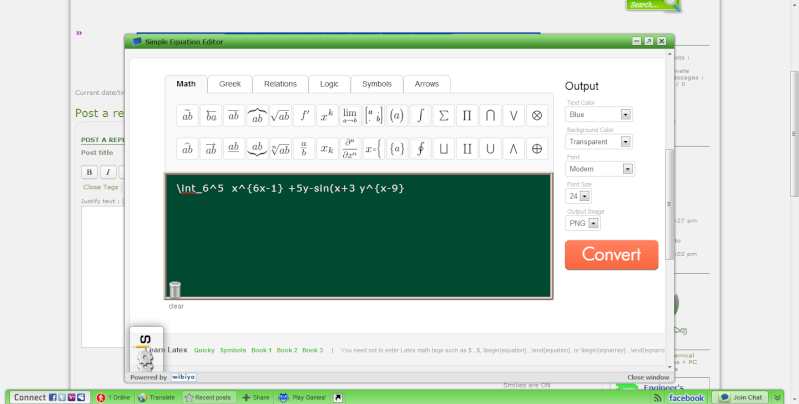 these are two online editors I have used:
http://www.sciweavers.org/free-online-latex-equation-editor
http://www.hamline.edu/~arundquist/equationeditor/
you can lock this thread now
---
Permissions in this forum:
You
cannot
reply to topics in this forum