Technical Details
Version :
phpBB3 
Rank on forum :
Administrateur 
Browsers concerned:
Mozilla Firefox, Google Chrome 
First problem occurence :
6 november 2014 
Forum link :
http://www.frenchnerd-fanclub.com/ 
Description
Hi Forumotion!
I have a problem on a forum i'd like to share to you.
Let me explain:
Since nearly 2 years, our forum sends a newstletter every early months through a mass mp (and not an E-mail).
Since then, we've never had any problems with that, but since a few months, a member told us he hadn't received the last news (the one that's been sent the 6th november at that time), and many others haven't either.
Our forum have more than 3100 members.
After a quick check, we discovered that all the members whose ID if after 2500th haven't received our mass mp. We've also told them to check "Yes" in the preferences for the "
Notify by e-mail when an Administrator/Moderator sends me a Private Message :"
So i have a few questions: Does mass mp be limited in number?
Otherwise, do you have any ideas where the problems could come from?
Thanks for your attention

Hello
Thanks for your detailed message. To avoid any confusion, could you please confirm you're talking about the following option?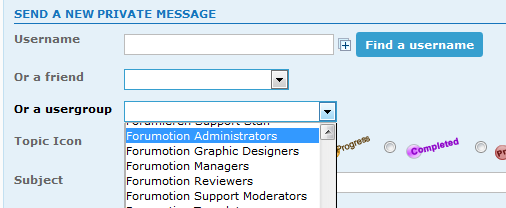 Thanks in advance for your answer
Hi!

Yes, it's this fonction. All members are automaticly placed in a group, and the mp is send to that group.
Yes, all user are member of this group. Unfortunately i'm not Admin there (but i'm helping the admin). I can ask him is you want any information.
Hello
I just talked to Vivi, the French admin. A topic has already been created on the French support. Our technicians are award of the problem and they are still working on the problem

You can find the topic here: forum.forumactif.com/t373453-1319-probleme-d-envoi-d-un-mp-en-masse#3153683
To avoid double report to the technicians, I let Vivi manages the problem.
Thanks for your understanding
Regards
Ho sorry, haven't think that all forumotion /forumactif staff were linked. No wonder why you're so effective!

Marked as Solved => Archived
---
Permissions in this forum:
You
cannot
reply to topics in this forum