Hello,
How can adapt the advanced profile to IPB profile look? My forum version is Punbb.
Example: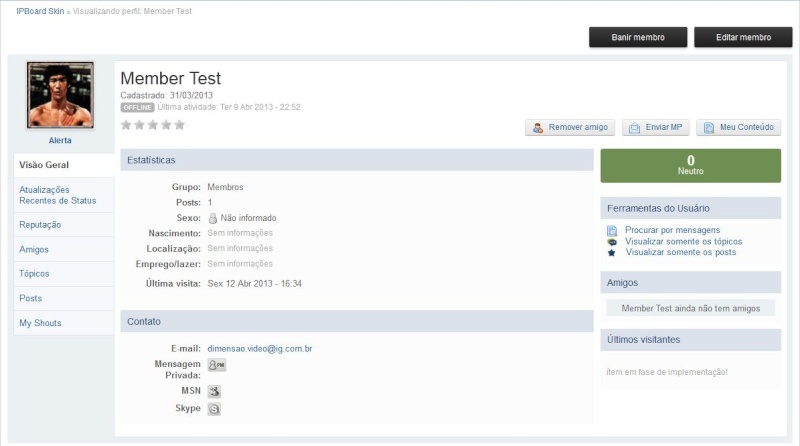 Last edited by Black-Shadow on Fri 3 Apr - 22:08; edited 1 time in total
Black-Shadow wrote:Bump
The code which belongs to this image you posted was made by me when I was beginning to my first steps in JavaScript, unfortunately I abandoned the project because I think the profile of Forumotion is much better!!!
But already there are several versions based on my code in which should work in his version, although my code was designed for PunBB.
In my forum, the link is:
/t15-perfil-ipb-v1-4-20b
So long,
JS
Hello
@JScript
,
Yes I found this tutorial in your forum and some similar codes on other support forums, your code and the other codes are working on forumotion basic profile. But I need something similar which it can be work on forumotion advanced profile due I have some other javascripts/codes which are working with advanced forumotion profile and if I will use the basic profile I must change all the other codes. Furthermore I was seek for a code which working on advanced profile but I didn't find anything.
@Black-Shadow
Well, I'm sorry, but as I have said above, I like the style of Forumotion's profiles.
They have a simple appearance but are quite complete and we can easily solve with CSS.
Please wait until someone else can help you,
JS
Oh, well.
I will waiting if someone else can help me.
Hello all,
Ok I found the codes problem solved.
No solution provided ; Topic garbaged.
---
Permissions in this forum:
You
cannot
reply to topics in this forum