| | | |
| --- | --- | --- |
| | Help Keeping your forum safe from hackers. | |

Hello All.

This tutorial will help you keep your forum and its contents Safe from hackers.
Potential hackers are everywhere from a member you think you know on your forum for years to a new member.

To keep the risk down there is some little but most important steps to take.

1, Never Use an Email you use to talk to your friends and family,
2, Always keep your founders emails address Safe and never put this live to the world.
3, Never let anyone have your founders account data like (Email address, Password, Username, or Founder's tools )
4, When sending a newsletter you get to pick what Email address you would like to use.
Your Forum address that is a safe secure Email made on Forumotion.com's servers.
And the founders Email address (NOT RECOMMENDED)
5, When making your forum or making a change to your Founders password please remember using secure/long passwords with letters and symbols and capital letters Really makes it more harder for the hackers to guess your passwords.




Next we all want to give an Email address when say your forum is down to work you're doing so why not make a safe and secure Email address that you only use for this page.
Do not EVER put your Founders Email in that place as this is a big risk of hackers getting your data.





Founders with Domain Names:
Founders that have a domain name paid for by the use of the ACP and "Not an external domain company"
Will get a Email system This is a good way to keep your forum Email address safe,
When making a new Email account on this tool you can make a Redirection Email account
This is a small Fake Email address that then sends you an Email to the address of your picking so no one will see your real Email address.


And you can even make a Email address for your staff so anyone of you can read the Email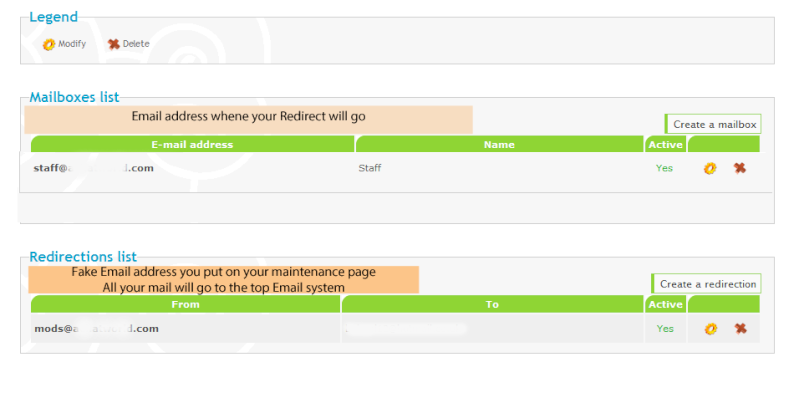 

Made like this

Click on:
Create a Redirection Button,
Type in the box the name you want all members to see
I have used staff
Now in the Next box you need to add an Email address
My advice is to use one from the same tool
I have used a fake account used just to show you how this is done




This is the most safest way to give an Email out for a Contact us link Email

If your not 100% clear on any of this Please feel Free to ask Me (APE)

| | |
| --- | --- |
| This tutorial was written by APE. | |
---
Permissions in this forum:
You
cannot
reply to topics in this forum