Technical Details
Forum version :
#phpBB3
Position :
Founder
Concerned browser(s) :
Internet Explorer
Who the problem concerns :
Yourself
When the problem appeared :
Today 6/2/2018 at 16:35 GMT
Forum link :
https://reportercaptures.forumotion.com/
Description of problem
Hello

Just had a warning from Google saying that my site is unsafe

I have recently installed Norton 2018 Anti Virus programme, just wondering if Norton going into overdrive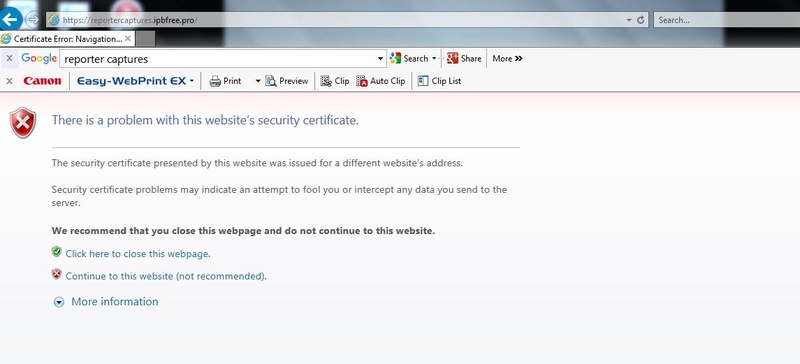 The only way I managed to get onto my forum is by clicking the Continue to the Website
Regards
Cassini

Hello
@cassini
Has anything happened recently with the SLL certificate on your forum? Like, for example, that it expired or you recently acquired one.
Greetings.

I have just looked on your site to and got the same warning so it has nothing to do with Norton It looks like we are having a problem with your SSL certificate I will make a report about this now for you as I know your certificate has not ran out yet.
Report made

17:02:56 (02.06.2018)
Hello This problem looks to be fixed already.
I have noticed that other problems have come and gone to so i think this was a server flush.
Thanks Ape, yes it seems to have sorted itself out, I bought my SSL certificate on 27/12/2017.
I have had one member complain that they couldn't get on however they have managed to log on with no problems

Yes I found out what was the problem.
our team was doing some work on the servers and this made a small problem for about 10 to 20mins they then fixed it as soon as they see the problem.
We are sorry for this issue and we thank you for your understanding.
Ape and the Forumotion Team
| | |
| --- | --- |
| | Problem solved & topic archived. |
---
Permissions in this forum:
You
cannot
reply to topics in this forum