| | | |
| --- | --- | --- |
| | Display the list of members who voted on the poll | |


Dear users,

Several small new features have been recently integrated into Forumotion forums, such as the addition of Google Web Fonts or optimization of the display of the page with javascripts (if you have personal JS scripts on your forum, do not hesitate to take a look in your AP).

Among these updates, discover the last one : display of poll participants and, optionally, their individual choices.
What is it about ?

If allowed by the administrator, 2 new options are available when creating a poll, depending on the permissions:

1) Display the list of members who voted on the poll
2) Display the list of members who voted for each choice





Here's what a poll's results page will look like if its author has enabled both options.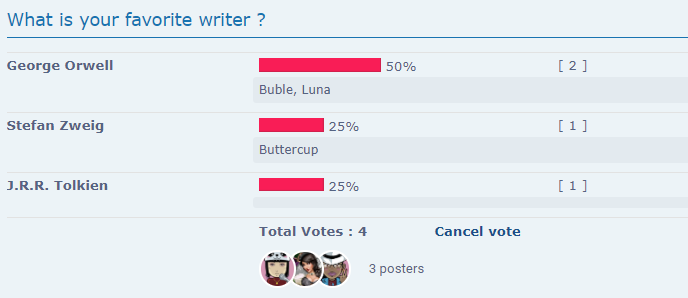 
Note:
If the poll creator has chosen to display the participants, a message warning that the votes are public is displayed next to the button used to register the vote.



The availability of these options can be configured by the forum administration. To do this, you must access the administration panel, then go to:


General  Messages & Emails  Configuration

Here you can choose whether the options shown above will be available when creating each poll, and for which type of users.




Note:
The settings chosen in the PA take priority: if you deactivate the option in the PA, the participants will no longer be displayed in any poll, even if this was the case when the poll was created.
| | |
| --- | --- |
|  | Administrators who have customized the templates posting_poll_body, viewtopic_poll_ballot and viewtopic_poll_result should consider the changes below. (Administrators who have not customized this template are not affected by these changes included natively in the basic template of the forum.) |
---


We let you discover these new features and choose the most appropriate settings for your forum, hoping that this update will be useful to you.


| | |
| --- | --- |
| A Forumotion Important Announcement | |
skouliki, SLGray, SarkZKalie, Winging and hoanglongnhatbao like this post
| | |
| --- | --- |
|  | Administrators who have customized the templates posting_poll_body, viewtopic_poll_ballot and viewtopic_poll_result should consider the changes below. (Administrators who have not customized this template are not affected by these changes included natively in the basic template of the forum.) |
The templates affected by the changes below can be found here:
viewtopic_poll_ballot and viewtopic_poll_result : search in Display > Templates > General

posting_poll_body : search in Display > Templates > Post & Private messages

Awesomebb :
posting_poll_body:

ADD

Code:

<!-- BEGIN switch_poll_public -->
<div class="radio-wrap">
<label class="radio-label">{switch_poll_public.L_POLL_DISPLAY_MEMBERS}</label>
<label>
<span class="radio">
<input type="radio" name="poll_public_members" value="1"{switch_poll_public.POLL_DISPLAY_MEMBERS_CHECK} />
<span class="radio-check"></span>
</span>
<span>{L_YES}</span>
</label>
<label>
<span class="radio">
<input type="radio" name="poll_public_members" value="0"{switch_poll_public.POLL_DISPLAY_MEMBERS_UNCHECK} />
<span class="radio-check"></span>
</span>
<span>{L_NO}</span>
</label>
</div>
<!-- BEGIN switch_poll_whovoted -->
<div class="radio-wrap">
<label class="radio-label">{switch_poll_public.switch_poll_whovoted.L_POLL_DISPLAY_WHOVOTED}</label>
<label>
<span class="radio">
<input type="radio" name="poll_public_whovoted" value="2"{switch_poll_public.switch_poll_whovoted.POLL_DISPLAY_WHOVOTED_CHECK_TIME} />
<span class="radio-check"></span>
</span>
<span>{switch_poll_public.switch_poll_whovoted.L_TIMED_REVEAL}</span>
</label>
<label>
<span class="radio">
<input type="radio" name="poll_public_whovoted" value="1"{switch_poll_public.switch_poll_whovoted.POLL_DISPLAY_WHOVOTED_CHECK} />
<span class="radio-check"></span>
</span>
<span>{L_YES}</span>
</label>
<label>
<span class="radio">
<input type="radio" name="poll_public_whovoted" value="0"{switch_poll_public.switch_poll_whovoted.POLL_DISPLAY_WHOVOTED_UNCHECK} />
<span class="radio-check"></span>
</span>
<span>{L_NO}</span>
</label>
</div>
<!-- END switch_poll_whovoted -->
<!-- END switch_poll_public -->

BEFORE

Code:

<!-- BEGIN switch_poll_hide_result -->
viewtopic_poll_ballot:

REPLACE

Code:

<form method="post" action="{S_POLL_ACTION}">

WITH

Code:

<form method="post" action="{S_POLL_ACTION}" class="poll">

ADD

Code:

<!-- BEGIN warning_public_votes -->
       <div>{warning_public_votes.L_WARNING_PUBLIC_VOTES}</div>
       <!-- END warning_public_votes -->


BEFORE

Code:

<div id="vote_expire">{L_VOTE_EXPIRE}</div>
viewtopic_poll_result:

ADD

Code:

<!-- BEGIN option_voters -->
           <dd><p class="option_voters_list">{poll_option.option_voters.POLL_OPTION_VOTERS}</p></dd>
           <!-- END option_voters -->


BEFORE

Code:

<!-- END poll_option -->

REPLACE

Code:

<div id="vote_expire">{L_VOTE_EXPIRE}</div>

WITH

Code:

<!-- BEGIN switch_back_to_vote -->
       <a href="{switch_back_to_vote.U_BACK_TO_VOTE}" class="btn btn-flat">{switch_back_to_vote.L_BACK}</a>
       <!-- END switch_back_to_vote -->
       <div id="vote_expire">{L_VOTE_EXPIRE}</div>
       {ALL_POLL_VOTERS_LIST}

ModernBB :
posting_poll_body:

ADD

Code:

<!-- BEGIN switch_poll_public -->
<dl>
<dt><label>{switch_poll_public.L_POLL_DISPLAY_MEMBERS}</label></dt>
<dd>
<label><input type="radio" name="poll_public_members" value="1"{switch_poll_public.POLL_DISPLAY_MEMBERS_CHECK} /> {L_YES}</label>
<label><input type="radio" name="poll_public_members" value="0"{switch_poll_public.POLL_DISPLAY_MEMBERS_UNCHECK} /> {L_NO}</label>
</dd>
</dl>
<!-- BEGIN switch_poll_whovoted -->
<dl>
<dt><label>{switch_poll_public.switch_poll_whovoted.L_POLL_DISPLAY_WHOVOTED}</label></dt>
<dd>
<label><input type="radio" name="poll_public_whovoted" value="2"{switch_poll_public.switch_poll_whovoted.POLL_DISPLAY_WHOVOTED_CHECK_TIME} /> {switch_poll_public.switch_poll_whovoted.L_TIMED_REVEAL}</label>
<label><input type="radio" name="poll_public_whovoted" value="1"{switch_poll_public.switch_poll_whovoted.POLL_DISPLAY_WHOVOTED_CHECK} /> {L_YES}</label>
<label><input type="radio" name="poll_public_whovoted" value="0"{switch_poll_public.switch_poll_whovoted.POLL_DISPLAY_WHOVOTED_UNCHECK} /> {L_NO}</label>
</dd>
</dl>
<!-- END switch_poll_whovoted -->
<!-- END switch_poll_public -->


BEFORE

Code:

<!-- BEGIN switch_poll_hide_result -->
viewtopic_poll_ballot:

REPLACE

Code:

<dd class="resultbar"><strong><a href="{U_VIEW_RESULTS}">{L_VIEW_RESULTS}</a></strong></dd>

WITH

Code:

<dd class="resultbar">
<strong><a href="{U_VIEW_RESULTS}">{L_VIEW_RESULTS}</a></strong>
</dd>


REPLACE

Code:

<dd class="">{L_VOTE_EXPIRE}</dd>

WITH

Code:

<dd class=""><!-- BEGIN warning_public_votes -->
                           {warning_public_votes.L_WARNING_PUBLIC_VOTES}
<br/>
<!-- END warning_public_votes -->
{L_VOTE_EXPIRE}</dd>

viewtopic_poll_result:

ADD

Code:

<!-- BEGIN option_voters -->
<dd><div class="option_voters_list">{poll_option.option_voters.POLL_OPTION_VOTERS}</div></dd>
<!-- END option_voters -->


AFTER

Code:

<dt><label>{poll_option.POLL_OPTION_CAPTION}</label></dt>
<dd class="poll-bar">
<div class="poll-bar-bar" style="width: {poll_option.POLL_OPTION_PERCENT};"></div>
<div class="poll-bar-desc">{poll_option.POLL_OPTION_RESULT} - {poll_option.POLL_OPTION_PERCENT}</div>
</dd>


ADD

Code:

{ALL_POLL_VOTERS_LIST}


AFTER

Code:

<dd><strong>{L_TOTAL_VOTES}: {TOTAL_VOTES}</strong></dd>


ADD

Code:

<!-- BEGIN switch_back_to_vote -->
<dl>
<dt>&nbsp;</dt>
<dd><b><a href="{switch_back_to_vote.U_BACK_TO_VOTE}">{switch_back_to_vote.L_BACK}</a></b></dd>
</dl>
<!-- END switch_back_to_vote -->


BEFORE

Code:

<!-- BEGIN switch_hide_result -->
<div id="hide_result_msg">{L_POLL_HIDE_RESULT}</div>
<!-- END switch_hide_result -->

PhpBB3 :
posting_poll_body:

ADD

Code:

<!-- BEGIN switch_poll_public -->
<dl>
<dt><label>{switch_poll_public.L_POLL_DISPLAY_MEMBERS}</label></dt>
<dd>
<label><input type="radio" name="poll_public_members" value="1"{switch_poll_public.POLL_DISPLAY_MEMBERS_CHECK} /> {L_YES}</label>
<label><input type="radio" name="poll_public_members" value="0"{switch_poll_public.POLL_DISPLAY_MEMBERS_UNCHECK} /> {L_NO}</label>
</dd>
</dl>
<!-- BEGIN switch_poll_whovoted -->
<dl>
<dt><label>{switch_poll_public.switch_poll_whovoted.L_POLL_DISPLAY_WHOVOTED}</label></dt>
<dd>
<label><input type="radio" name="poll_public_whovoted" value="2"{switch_poll_public.switch_poll_whovoted.POLL_DISPLAY_WHOVOTED_CHECK_TIME} /> {switch_poll_public.switch_poll_whovoted.L_TIMED_REVEAL}</label>
<label><input type="radio" name="poll_public_whovoted" value="1"{switch_poll_public.switch_poll_whovoted.POLL_DISPLAY_WHOVOTED_CHECK} /> {L_YES}</label>
<label><input type="radio" name="poll_public_whovoted" value="0"{switch_poll_public.switch_poll_whovoted.POLL_DISPLAY_WHOVOTED_UNCHECK} /> {L_NO}</label>
</dd>
</dl>
<!-- END switch_poll_whovoted -->
<!-- END switch_poll_public -->


BEFORE

Code:

<!-- BEGIN switch_poll_hide_result -->
viewtopic_poll_ballot:

ADD

Code:

<!-- BEGIN warning_public_votes -->
{warning_public_votes.L_WARNING_PUBLIC_VOTES}
<br/>
<!-- END warning_public_votes -->


BEFORE

Code:

{L_VOTE_EXPIRE}
viewtopic_poll_result:

ADD

Code:

<!-- BEGIN option_voters --><dd class="option_voters_list">{poll_option.option_voters.POLL_OPTION_VOTERS}</dd><!-- END option_voters -->

AFTER

Code:

<dd>[ {poll_option.POLL_OPTION_RESULT} ]</dd>

REPLACE

Code:

<dl>
<dt>&nbsp;</dt>
<dd><strong>{L_TOTAL_VOTES} : {TOTAL_VOTES}</strong></dd>
<!-- BEGIN cancel_vote -->
<dd><b><a href="{U_CANCEL_VOTE}">{L_CANCEL_VOTE}</a></b></dd>
<!-- END cancel_vote -->
</dl>


WITH

Code:

<dl>
<dt>&nbsp;</dt>
<dd><strong>{L_TOTAL_VOTES} : {TOTAL_VOTES}</strong></dd>
<!-- BEGIN cancel_vote -->
<dd><b><a href="{U_CANCEL_VOTE}">{L_CANCEL_VOTE}</a></b></dd>
<!-- END cancel_vote -->
<!-- BEGIN switch_back_to_vote -->
<dd><b><a href="{switch_back_to_vote.U_BACK_TO_VOTE}">{switch_back_to_vote.L_BACK}</a></b></dd>
<!-- END switch_back_to_vote -->
</dl>
<d1>
<dt>&nbsp</dt>
<dd style="width:40%;">{ALL_POLL_VOTERS_LIST}</dd>
</d1>

PhpBB2 :
posting_poll_body:

ADD

Code:

<!-- BEGIN switch_poll_public -->
<tr>
<td class="row1"><span class="gen"><b>{switch_poll_public.L_POLL_DISPLAY_MEMBERS}</b></span></td>
<td class="row2"><span class="gen"><input type="radio" name="poll_public_members" value="1"{switch_poll_public.POLL_DISPLAY_MEMBERS_CHECK} /> {L_YES} &nbsp; <input type="radio" name="poll_public_votes" value="0"{switch_poll_public.POLL_DISPLAY_MEMBERS_UNCHECK} /> {L_NO}</span></td>
</tr>
<!-- BEGIN switch_poll_whovoted -->
<tr>
<td class="row1"><span class="gen"><b>{switch_poll_public.switch_poll_whovoted.L_POLL_DISPLAY_WHOVOTED}</b></span></td>
<td class="row2"><span class="gen"><input type="radio" name="poll_public_whovoted" value="2"{switch_poll_public.switch_poll_whovoted.POLL_DISPLAY_WHOVOTED_CHECK_TIME} /> {switch_poll_public.switch_poll_whovoted.L_TIMED_REVEAL} &nbsp; <input type="radio" name="poll_public_whovoted" value="1"{switch_poll_public.switch_poll_whovoted.POLL_DISPLAY_WHOVOTED_CHECK} /> {L_YES} &nbsp;<input type="radio" name="poll_public_whovoted" value="0"{switch_poll_public.switch_poll_whovoted.POLL_DISPLAY_WHOVOTED_UNCHECK} /> {L_NO}</span></td>
</tr>
<!-- END switch_poll_whovoted -->
<!-- END switch_poll_public -->


BEFORE

Code:

<!-- BEGIN switch_poll_hide_result -->
viewtopic_post_ballot:

ADD

Code:

<!-- BEGIN warning_public_votes -->
<tr>
<td align="center"><span class="gensmall">{warning_public_votes.L_WARNING_PUBLIC_VOTES}</span></td>
</tr>
<!-- END warning_public_votes -->


BEFORE

Code:

<tr>
<td align="center"><span class="gensmall">{L_VOTE_EXPIRE}</span></td>
</tr>

viewtopic_poll_result:

ADD

Code:

<!-- BEGIN option_voters -->
<tr><td></td><td colspan="3" class="option_voters_list"><span class="gen">{poll_option.option_voters.POLL_OPTION_VOTERS}</span></td></tr>
<!-- END option_voters -->


BEFORE

Code:

<!-- END poll_option -->

REPLACE

Code:

<tr>
<td colspan="4">&nbsp;</td>
</tr>
<!-- BEGIN cancel_vote -->


WITH

Code:

<tr>
<td colspan="4">&nbsp;{ALL_POLL_VOTERS_LIST}</td>
</tr>
<!-- BEGIN cancel_vote -->


ADD

Code:

<!-- BEGIN switch_back_to_vote -->
<tr>
<td colspan="4" align="center"><span class="gen"><b><a href="{switch_back_to_vote.U_BACK_TO_VOTE}">{switch_back_to_vote.L_BACK}</a></b></span></td>
</tr>
<!-- END switch_back_to_vote -->


AFTER

Code:

<!-- BEGIN cancel_vote -->
<tr>
<td colspan="4" align="center"><span class="gen"><b><a href="{U_CANCEL_VOTE}">{L_CANCEL_VOTE}</a></b></span></td>
</tr>
<!-- END cancel_vote -->

PunBB :
posting_poll_body:

ADD

Code:

<!-- BEGIN switch_poll_public -->
<dl>
<dt><label>{switch_poll_public.L_POLL_DISPLAY_MEMBERS}</label></dt>
<dd>
<label><input type="radio" name="poll_public_members" value="1"{switch_poll_public.POLL_DISPLAY_MEMBERS_CHECK} /> {L_YES}</label>
<label><input type="radio" name="poll_public_members" value="0"{switch_poll_public.POLL_DISPLAY_MEMBERS_UNCHECK} /> {L_NO}</label>
</dd>
</dl>
<!-- BEGIN switch_poll_whovoted -->
<dl>
<dt><label>{switch_poll_public.switch_poll_whovoted.L_POLL_DISPLAY_WHOVOTED}</label></dt>
<dd>
<label><input type="radio" name="poll_public_whovoted" value="2"{switch_poll_public.switch_poll_whovoted.POLL_DISPLAY_WHOVOTED_CHECK_TIME} /> {switch_poll_public.switch_poll_whovoted.L_TIMED_REVEAL}</label>
<label><input type="radio" name="poll_public_whovoted" value="1"{switch_poll_public.switch_poll_whovoted.POLL_DISPLAY_WHOVOTED_CHECK} /> {L_YES}</label>
<label><input type="radio" name="poll_public_whovoted" value="0"{switch_poll_public.switch_poll_whovoted.POLL_DISPLAY_WHOVOTED_UNCHECK} /> {L_NO}</label>
</dd>
</dl>
<!-- END switch_poll_whovoted -->
<!-- END switch_poll_public -->


BEFORE

Code:

<!-- BEGIN switch_poll_hide_result -->
viewtopic_poll_ballot:

ADD

Code:

<!-- BEGIN warning_public_votes -->
<div>{warning_public_votes.L_WARNING_PUBLIC_VOTES}</div>
<!-- END warning_public_votes -->


BEFORE

Code:

<div id="vote_expire">{L_VOTE_EXPIRE}</div>
viewtopic_poll_result:

ADD

Code:

<!-- BEGIN option_voters -->
<p class="option_voters_list">{poll_option.option_voters.POLL_OPTION_VOTERS}</p>
<!-- END option_voters -->


AFTER

Code:

<img src="{VOTE_RCAP_IMG}" height="12" alt="" loading="lazy" />&nbsp;{poll_option.POLL_OPTION_PERCENT}&nbsp;[ {poll_option.POLL_OPTION_RESULT} ]

REPLACE

Code:


<!-- BEGIN cancel_vote -->
<em><a href="{U_CANCEL_VOTE}">{L_CANCEL_VOTE}</a></em><br /><br />
<!-- END cancel_vote -->


WITH

Code:

<!-- BEGIN cancel_vote -->
<em><a href="{U_CANCEL_VOTE}">{L_CANCEL_VOTE}</a></em><br />
<!-- END cancel_vote -->
<!-- BEGIN switch_back_to_vote -->
<em><a href="{switch_back_to_vote.U_BACK_TO_VOTE}">{switch_back_to_vote.L_BACK}</a></em><br/>
<!-- END switch_back_to_vote -->
       {ALL_POLL_VOTERS_LIST}

Invision :
posting_poll_body:

ADD

Code:

<!-- BEGIN switch_poll_public -->
<dl>
<dt><label>{switch_poll_public.L_POLL_DISPLAY_MEMBERS}</label></dt>
<dd>
<label><input type="radio" name="poll_public_members" value="1"{switch_poll_public.POLL_DISPLAY_MEMBERS_CHECK} /> {L_YES}</label>
<label><input type="radio" name="poll_public_members" value="0"{switch_poll_public.POLL_DISPLAY_MEMBERS_UNCHECK} /> {L_NO}</label>
</dd>
</dl>
<!-- BEGIN switch_poll_whovoted -->
<dl>
<dt><label>{switch_poll_public.switch_poll_whovoted.L_POLL_DISPLAY_WHOVOTED}</label></dt>
<dd>
<label><input type="radio" name="poll_public_whovoted" value="2"{switch_poll_public.switch_poll_whovoted.POLL_DISPLAY_WHOVOTED_CHECK_TIME} /> {switch_poll_public.switch_poll_whovoted.L_TIMED_REVEAL}</label>
<label><input type="radio" name="poll_public_whovoted" value="1"{switch_poll_public.switch_poll_whovoted.POLL_DISPLAY_WHOVOTED_CHECK} /> {L_YES}</label>
<label><input type="radio" name="poll_public_whovoted" value="0"{switch_poll_public.switch_poll_whovoted.POLL_DISPLAY_WHOVOTED_UNCHECK} /> {L_NO}</label>
</dd>
</dl>
<!-- END switch_poll_whovoted -->
<!-- END switch_poll_public -->


BEFORE

Code:

<!-- BEGIN switch_poll_hide_result -->
viewtopic_poll_ballot:

ADD

Code:

<!-- BEGIN warning_public_votes -->
{warning_public_votes.L_WARNING_PUBLIC_VOTES}<br/>
<!-- END warning_public_votes -->


BEFORE

Code:

{L_VOTE_EXPIRE}
viewtopic_poll_result:

ADD

Code:

<!-- BEGIN option_voters -->
<dl class="clearfix option_voters_list">
<dt>&nbsp;</dt>
<dd class="number-votes">&nbsp;</dd>
<dd><p>{poll_option.option_voters.POLL_OPTION_VOTERS}</p></dd>
</dl>
<!-- END option_voters -->



BEFORE

Code:

<!-- END poll_option -->

ADD

Code:

<!-- BEGIN switch_back_to_vote -->
<em><a href="{switch_back_to_vote.U_BACK_TO_VOTE}">{switch_back_to_vote.L_BACK}</a></em><br/>
<!-- END switch_back_to_vote -->
           {ALL_POLL_VOTERS_LIST}


AFTER

Code:

<!-- BEGIN cancel_vote -->
<em><a href="{U_CANCEL_VOTE}">{L_CANCEL_VOTE}</a></em><br />
<!-- END cancel_vote -->

SLGray, TonnyKamper and hoanglongnhatbao like this post
---
Permissions in this forum:
You
cannot
reply to topics in this forum