West Coast Time Bandits Gaming Clan
http://www.wctbandits.com

Administrators :
xXHwyStarXx, FireNForget, Wolfpack
Moderators
(So Far)
:
xXHwyStarXx, FireNForget, Wolfpack
Forum's main theme :
This forum was created to give casual gamers a place to meet other gamers and hookup for online games. We welcome all mature (21 years of age and older please) XBox 360, PS3 and PC gamers.
Language :
English
Category :
Games & RPG
West Coast Time Bandit's Categories :
Guests
Clan Rules and New Member Introductions
First Person / Third Person Shooting Games
Call of Duty 4
Enemy Territory: Quake Wars
Ghost Recon Advanced Warfighter 2
Halo 3
Haze
Rainbow Six Vegas 2
Unreal Tournament III
Warhawk
Action Adventure Games

Assassin's Creed
Condemned 2: Bloodshot
Grand Theft Auto IV
Devil May Cry 4
Mass Effect
Ratchet & Clank Future: Tools of Destruction
Uncharted: Drake's Fortune
Racing Games

Burnout Paradise
Forza Motorsport 2
Grand Turismo 5 Prologue
GRID
Motorstorm
Flight Simulators

Ace Combat 6
Forum Overview

WCTBandits

New

Member




Posts

: 2


Reputation :

0


Language

: English



In just 10 days, we acquired 10 new Members and more are coming quickly. Thanks Clan!
Update:
We've also revamped the categories to be much more user friendly and added a news feed for our users.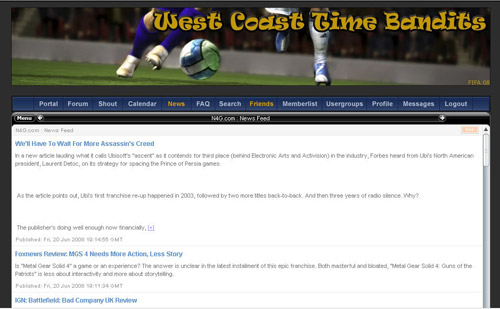 WCTBandits

New

Member




Posts

: 2


Reputation :

0


Language

: English



Great site, really like the theme/colours. It's also great that you have a section open for Guests to post, I will try to use that idea in my forums, as I seem to have more Guests than members
Keep up the good work <couldn't find a 'Thumbs up' smilie, I added one to the smiles on my forum and just spent the last 10 minutes trying to find it on here, lol>
Hey Thanks for the compliments Ninja! You have really put a lot of work into your site and it is looking great! Keep up the great work Dude! Us Admins have to stick together... CU Online sometime.

XBL: HwyStar
PSN: xXHwyStarXx
Path
Forum doesn't exist; garbaged.
Similar topics
---
Permissions in this forum:
You
cannot
reply to topics in this forum