DFW Homeschool Cafe
Choice of Category:
Family & Society
Choice of a title:
DFW Homeschool Cafe
Language:
English
Forum's Purpose:
DFW Homeschool Cafe is a homeschool support group. We welcome all who either homeschool, are interested in homeschooling or support homeschooling.
All are welcome!
Forum address::
http://dfwhomeschoolcafe.forumotion.com/
Administrator:
Admin (Me)
Note:
We are in need of "Active" members who love to post.
Categories:Main Office
Admin Announcement & Rules
Homeschool Records
How to Questions & Tips
Introductions (Welcome)
Education
Homeschooling PreK-8
High School Board
Infant & Toddler Board
Homeschooling Children with Special Needs
Homeschool News
General Education Discussion (Public or Private)
Events and Classes
Events and Classes
Subjects (Share Free Curriculum, Educational Sites, and videos.)
Free Curriculum & Resources
General
General Chat
Blogs
Health, Nutrition, and Cooking
Hair, Skin and Nails
Christian Board
Business and Career Board
Business Websites & Blogs
Suggestions
Suggestions for the Site

DFW Homeschool Cafe has added a new
Quick Reference
area to help new members get started. We also have a blog for those who love to blog.
In addition, we have changed the
Humor
section under the profile to
Status
. You can view the member's Status under the Member's tab and under their profile.
We have also added a Mood section with images to reflect how our members are feeling. The member's mood can be seen under their post and profile.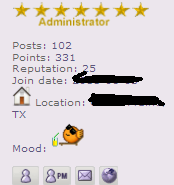 DFW Homeschool Cafe now has 14 registered members. Our users have posted a total of 132 messages. Please stop by and check us out.
DFW Homeschool Cafe has added a
Gameroom
and an
Employment & Training
sub-board.
Forum Rules Update:
PMs
Members with at least 5 post may PM members.
Signature
Members with at least 12 post, may post only their Homeschool Blog, and other non-business information under their signature.
Who is considered an Active Member?
Members who post at least twice a month are considered active members.
DFW Homeschool Cafe has added:
New navigation buttons to help members navigate better.
A picture slide show for members who have added an avatar.
A video library to our portal.
A link badge to a math tutor site.
Statistics:
Our users have posted a total of 158 messages
We have 17 registered users
The newest registered user is KimberleyT
DFW Homeschool Cafe has added:
Park Day & Field Trip Forum
Statistics:
Our users have posted a total of 266 messages
We have 24 registered users
The newest registered user is desiland1
DFW Homeschool Cafe has added:
A new header banner
A member banner (some of the members)
Math help to the Portal page
Word of the Day to the Portal page
Statistics:
Our users have posted a total of 629 messages
We have 49 registered users
The newest registered user is regatwood
Last edited by Nera. on September 24th 2012, 9:12 am; edited 2 times in total (Reason for editing : Spam)
New

Member




Posts

: 7


Reputation :

1


Language

: English



Similar topics
---
Permissions in this forum:
You
cannot
reply to topics in this forum