There are a few ways to ban a member. The quickest way, is to click on the members profile button that appears under the posts that they have made. You will be asked how long you want to ban the member for and the reason you are banning them. Click confirm and it will tell you the member has been banned.





The other option is to go into your administration panel, click "users and groups", then click "search users". You can now search by email or username for the member you want to ban. Clicking their username will take you into their profile. Scroll down to Special admin-only fields and you will see the option to ban the member in the user is active field. Again you need to check the 'banned' button and optionally set the length of ban and the reason for the ban. Scroll down and click save. The member is now banned.
If you decide you want to unban the member you can use the above option to set the member back to being active.




Banning as a Moderator

You can also ban members as Moderator, if it has been allowed by the administrator. This option can be enabled in "General / Forum / Security". Once enabled, the moderators should see a "ban this member" link in the according profile, just below the users avatar (may differ in different forum versions). After you have clicked this link, just follow the instructions to confirm the ban. A timed ban is optional - leave the field blank to exclude this member forver from your board.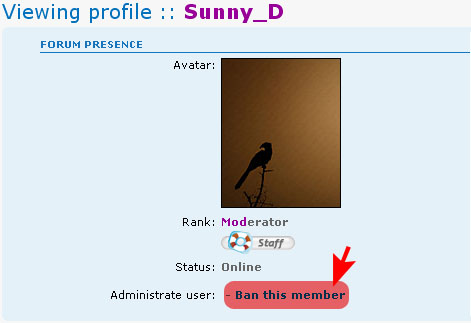 Using Ban Control.



In your admin panel, in users and groups, in users, you will see the ban control option. In the ban control you can trace IP addresses, ban IP addresses or host names and unban IP addresses and hostnames. By banning an IP address it does not matter if a banned member goes and makes up a bogus email and username, they still wont be able to sign up to your forum if the IP is banned. To find a members IP address you can click the small IP button to the top right of any post they have made.
Be careful however as some IP addresses are shared and by banning one members IP you could unintentionally ban more than just that member. A good way to check is to click the IP button to the top right of a post of the member you want to ban, and check if there is any other users posting from that IP before you ban it.

To ban the IP come back to your admin panel and enter the IP in 'Ban one or more IP addresses or hostnames' field then save.You can also unban the IP if you choose by entering it in the 'Unban one or more IP addresses' field.

Email-ban

You also have the option to ban email addresses. Users with a banned email cannot connect to the forum and also. This can also be used to deny a specific email address from being used for registering on your board. Wildcarts "*" can be used as well to ban for example all emails from a specific provider.



This tutorial was written by Zinex.


Updated by Sunny_D || 14. 07. '08

Caihlem

Ener

getic






Posts

: 8969


Reputation :

341


Language

: English, French & Female


Location

: You can't fly like the phenix



Similar topics
---
Permissions in this forum:
You
cannot
reply to topics in this forum