Hello, i repost an issue i have here as i saw that the previous one was locked and put to Garbage, althouth i received no answer or suggestion. Am not sure what the criterias are to throw something in the Garbage, when someone has an issue, where the solution is not provided and noone is making any suggestions... A notification at least would be nice, that the issue is about to close...
---
Anyway, the issue is here...
--------
Hi, i searched on the forum on how to implement an RSS Widget and found the following code, which i changed for a specific category of mine...
<script language="JavaScript" src="https://help.forumotion.com/rss/get_rss.js"></script>
<script language="JavaScript">
nb_sujets = 1;
display_text = 0;
largeur_tab = "18%";
affichage_nb_reponses = 0;
affichage_GMT = 0;
readRSS("http://newageastrology.forumotion.com/feed/?f=35", nb_sujets, display_text, largeur_tab, affichage_nb_reponses, affichage_GMT);
</script>
I noticed it doesn't mention the Author though (it says unknown author). And i would also like to display part of the text and the thumbnail like you do in the Latest Topics module. Is that possible? I would appreciate any suggestions..
---------
To add to that previous description, what i want to do is put various last topics from various categories in the portal page. It's something lots and lots of forums do. Yet, with forumotion i haven't found any solution yet; i'd appreciate workarounds if the RSS is not suitable, in your opinion...
--------
Here is a picture showing what is displayed and what is required...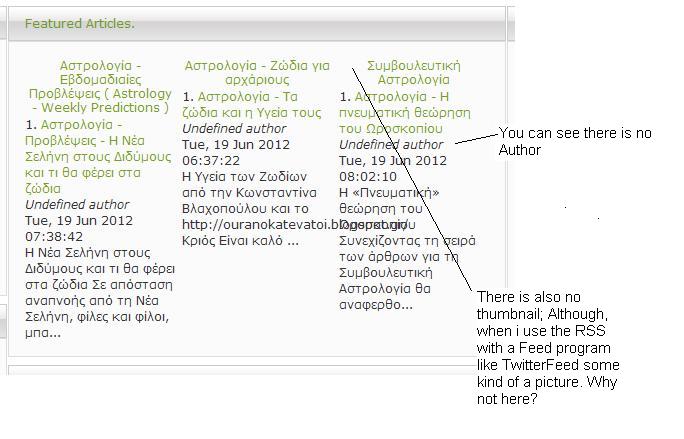 ---
Permissions in this forum:
You
cannot
reply to topics in this forum