Hi,
I recently created an Awards list today so that my members can get awards:
AWARDS LIST
But I saw the tutorial about awards system at the tricks & tips section but if I use that method the profile would look terrible because of so many awards.
So,Is there any alternative ?
Well there is no other option.

Sanket

Forum

Guru






Posts

: 48766


Reputation :

2830


Language

: English


Location

: Mumbai



Actually... I have created an alternative to the award system that Forumotion currently has on tutorial. And I personally think the results are better when displayed... And it takes only three simple steps. Though there are a few tips in the end, but they aren't exactly a key part.
STEP ONE
Go to the Profile Fields area in your admin control panel.
Admin Control Panel
 -> 
Users & Groups
->
Profiles
STEP TWO
Add your award field... and fill in the details. 
Enlarge this image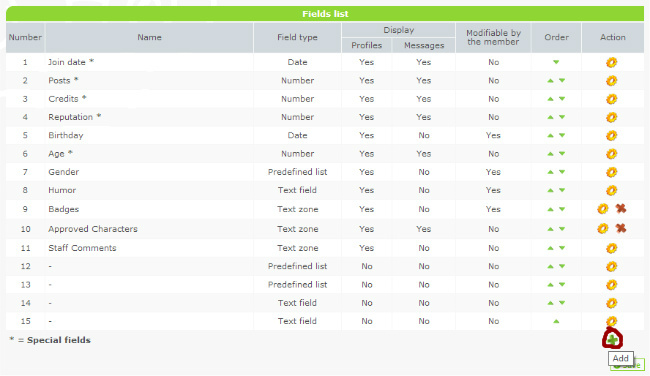 For this I have named mine "Badges". For this system you want the field to be a 
Text Zone
, you should leave the URL Icon empty, and leave the display type as Text... The rest is up to you. Once finished click 
save
.
Enlarge this image
Click to see fullsize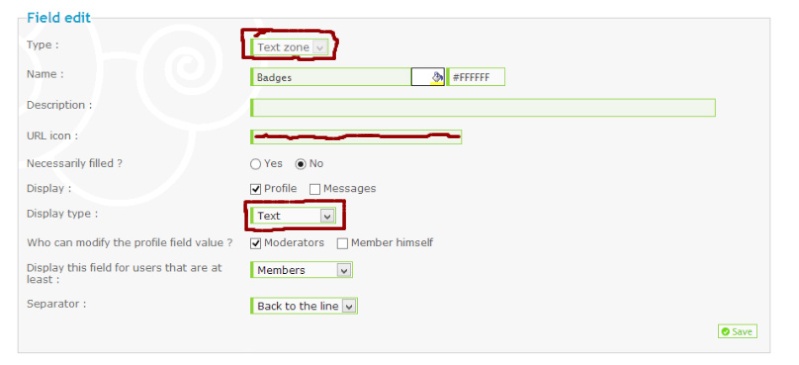 STEP THREE
Alright, with our badge field now created we are actually all done in the admin panel and can go to our forum to actually add the badges... Lets go to a random members profile. For this I am just going to my own. We now see the empty field...
Enlarge this image

And we will add our badges right from there. Simply find the image you wish to use as a badge (
I suggest something on the smaller side for appearances sake
) and simply insert the image for the badge right into the profile using the BBC image tags...
Code:

[img]http/your-badges-url.png[/img]
When inserting the codes it would look something like this...
Enlarge this image

And with the code inserted and saved it would look like this on a persons profile...
Enlarge this image
And voila! You have your badges. Yes you have to go around and provide members with them manually... However that would have had to been done no matter what. I do have a few last minute tips though...
TIP ONE:
If you wish to provide a member an award for simply joining the forum, a members award/badge if you will... well then when creating the profile spot in step two go down to text field and enter the image code in the default content box. It will provide a member with the award automatically. If needed press 'replace the content' to provide it to any members who have already registered. But beware, if you have already entered other badges, this will replace them.
Enlarge this image
Click to see fullsize

TIP TWO:
Another suggestion which will make this simple system all the simpler... Impossible one may think. Well think again. All you have to do is simply create a master badge list which provides the image codes so that all you or your staff have to do is copy and paste the code... Even simpler right?
Enlarge this image
TIP THREE:
Since this is a text zone you could provide text descriptions for your badges beside them. Also other BBCodes would work so you could style it how you wish... (ex: Centering the images)
Enlarge this image

Hope this  gives you a system you can work with and with results you find pleasing. Let me know how it goes. ^^
Similar topics
---
Permissions in this forum:
You
cannot
reply to topics in this forum