Technical Details
Forum version :
#phpBB3
Position :
Administrator
Concerned browser(s) :
Mozilla Firefox, Google Chrome, Internet Explorer, Opera, Safari
Who the problem concerns :
All members
Forum link :
( link is hidden, you must reply to see )
Description of problem
Hello guys, I want to make a system just like the one in the two screenshots below.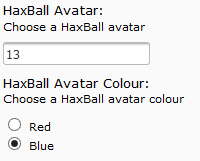 That's the information you fill in.

And that's the result you get on your profile.
Basically, the coloured circle is a "jersey". I want members to choose inbetween two jerseys/avatars(call it whatever you want) just like the screenshot above and the 2-digit number of their preference.
The first question I want to ask is; How can I make this?
The second; How can I modify the
content
of a custom profile field? For example, I want the font of a custom profile field in the topics to have a font of my choice. Seems that profile fields are too restrictive for no reason. I even tried the AvacWeb parser but it doesn't seem to be able to do anything.
Thanks in advance for your answers.
---
Permissions in this forum:
You
cannot
reply to topics in this forum