I hope I put this in the right spot. If not I can move it.
A while ago, i think about a few months ago or maybe last year, I was able to get on my forum on my phone and I was able to log in and see my actual designed forum. Now I see that one grey page that just shows the topic and there is an arrow at the right hand corner that you can click on that gives the choice to change to classic version where your original forum designs and such appear. Now It don't do that nor does it let me log in. If you need a picture of what I am talking about, I will send you one. But down to my question, what can I do to fix this?
Hello
@catgirl
can you please take a screen shot of what you see when in on a mobile phone and a link to your forum with the problem
Thank you.
This has happened to me. Sometimes forums don't have the arrow. What you can do is add /memberlist at the end of your forum link and the mobile version is temporarily gone. Then scroll down and hit Mobile Version and go to Home and it should be fixed.
I did what you suggested and put /member list at the URl and then hit mobile version and then went home but then it went back to that grey screen with no design. I tried it about three more times and refreshed and I also went up the that arrow to hit classic version but it still did not work. I could try again but I doubt that it would work. Is there something I am doing wrong or is there another way of fixing this?
Hello,

Can you provide an screenshot, it would greatly help. Also can you tell me what device are you using?
Here is the screen shot and I am using a phone. It works on my tablet and lap top but it just don't work on my phone. Also, the design of what happens when I get on there on my phone, changed but still won't go to the design and pictures of the forum and it still won't let my log in. I would log in and type everything correctly but it won't stay logged in. Also I am getting a new phone tomorrow so I am not sure if it will do this then too or not.
Screen shot:
It is the
new mobile theme
. I don't really see your problem actually if you wish to have the former theme you can go in your PA and then to
display > templates > mobile version
and choose
regular
. You can connect on the actual version by clicking on the three lines on the top right of the screen and choose connection.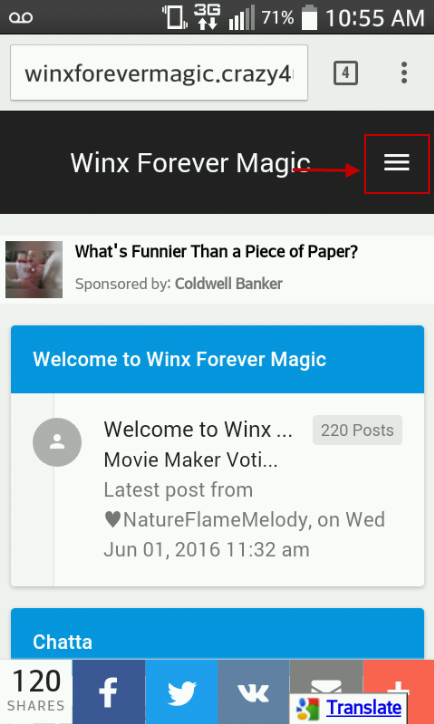 I don't have connection. I have Home, login and then classic version. When I try to log in, it says I am not logged in and it will say log in again after I click on the three lines again. Is it supposed to be like this?
---
Permissions in this forum:
You
cannot
reply to topics in this forum