Hi,
I have had members tell me that they are getting PM's for PW resets. These members are not moderators and I have checked the forum/members many times in the last 3-4 days and I can't figure out why these members are getting password reset PM's.
My forum is:
http://silverwing600.forumotion.com
I have had this forum for about 9 years and have never had this problem and I just can't figure it out. I went to each member, that reported this problem, and can't see anything that would tell me why they are getting PM's for password requests. All of the moderators get the PM's and always have, but never has a member received a PM for a members password request. Can you give me any help or suggestions on what to check?
Thanks,
Jeff

JeffR709

New

Member




Posts

: 6


Reputation :

1


Language

: English



Hello can you Please copy a PM to the members here so we can see what your getting.

We do not send PM's to the members about password resets all password reset is made by the member only and it will be sent to there Emails only and only if they ask for them.

This sounds as if some one is sending this out from your forum.

We do not send PM's to reset your passwords.
This is what a member sent that is supposed to only go to moderators:

Inbox :: Message
From: Guest
To: DickO
Posted: Today at 10:03 am
Subject: [Contact] Details
I registered some time ago but apart from my email address , I cannot remember any of my other register details . I would very much appreciate help in recovering them. I have just got the SW out of layup .
regards C. Gregg

--------------------------------------------------------------------------------
For some reason one member, "DickO" was sent this message. Only a 3-4 members have notified me out of the 3,333 members that I have on my site. If you think this is just a "one time" thing than I can wait to see if others are receiving these PM's to more members.

Thanks,

Jeff

JeffR709

New

Member




Posts

: 6


Reputation :

1


Language

: English



ok this looks like a Group thing.
do you have any members in a Group that is in the mods setting like this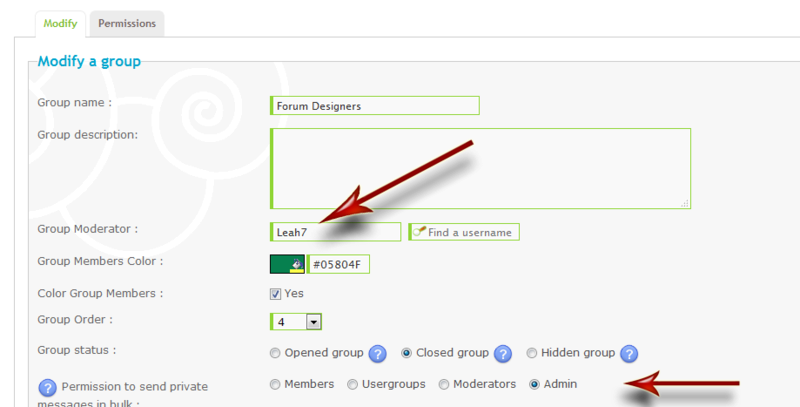 if yes then there still classed as staff even if your not setting them as staff
Thanks. I went and found that a certain group had moderator privledges so I took care of that. I think this has been solved and thanks for the very quick turn around.

Thanks,

Jeff

JeffR709

New

Member




Posts

: 6


Reputation :

1


Language

: English



Your so welcome Glad i was of some help

have a nice day / afternoon / Evening from all of us at
Forumotion
| | |
| --- | --- |
| | Problem solved & topic archived. |
---
Permissions in this forum:
You
cannot
reply to topics in this forum