Technical Details
Forum version :
#ModernBB
Position :
Founder
Concerned browser(s) :
Mozilla Firefox, Google Chrome, Internet Explorer, Opera, Safari, Other
Screenshot of problem :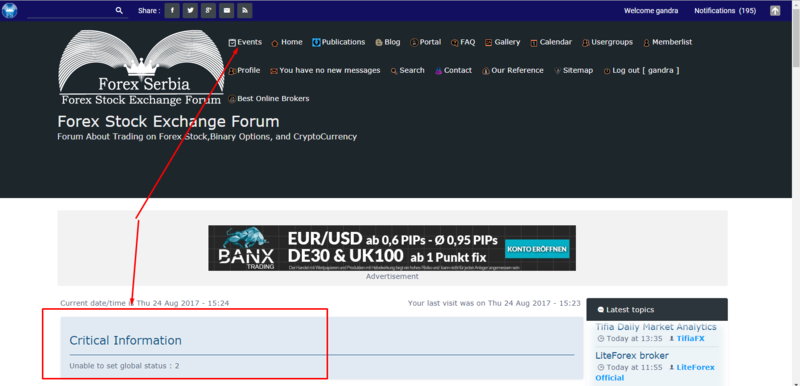 Who the problem concerns :
All members
When the problem appeared :
Today
Forum link :
http://fxbo.forumotion.com
Description of problem
Hi,
Today I noticed that
Events
section on my website is not working.
kindest
Last edited by forexberza.serbianforum on August 24th 2017, 7:29 pm; edited 1 time in total
Hi there,

I clicked the links and the events are showing on my end. Are they still not showing up for you?

NEVER provide your founder's account or email
Please provide forum's URL when dealing with design and appearance issues
Don't forget to mark the topic as
when the issue is resolved. This helps the staff greatly.
PM Support is prohibited!
TOS | General Rules | FAQ | Tricks & Tips | Latest Updates | Introduce Yourself
Since no solution was given, I will go ahead and send this to the garbage.
Garbaged

NEVER provide your founder's account or email
Please provide forum's URL when dealing with design and appearance issues
Don't forget to mark the topic as
when the issue is resolved. This helps the staff greatly.
PM Support is prohibited!
TOS | General Rules | FAQ | Tricks & Tips | Latest Updates | Introduce Yourself
---
Permissions in this forum:
You
cannot
reply to topics in this forum