I saw a topic explaining how to connect a domain name from godaddy to become your new " main " link, but it seems I could not find it, can someone help?
Hello give this a try

https://help.forumotion.com/t7021-cname-redirect-an-extern-domain-name-that-you-own-to-your-board#37247
I don't see that last part anywhere
all I see is this? am I missing something ?
Hello that is not the right part If you have a domain name by godaddy you need to go to there site tools and match it up to your forum.

ACP >> General tab >> Forum >> Forum Address >> Personalized domain name.
i was talking about this step , that's provided in the link...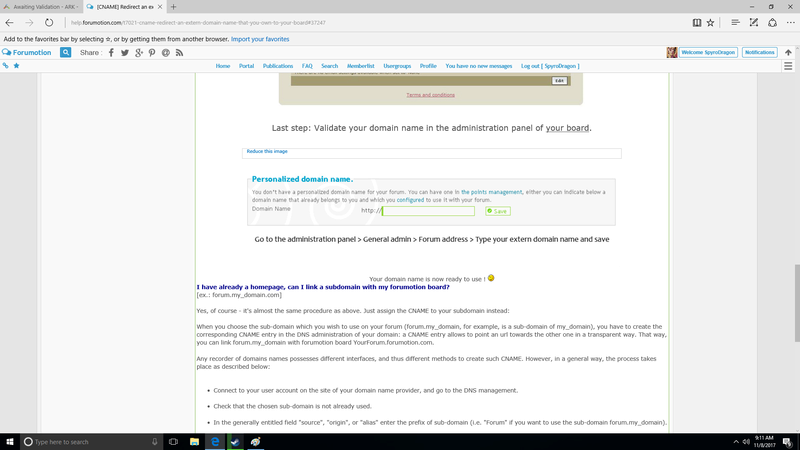 Are you buying the domain name from Godaddy or are your buying the domain name from us ?
I just realized I was looking in the wrong area .. I found the last step, but when I put it in, it doesn't work, its suppost to replace everything with Dragontheclan.com right?
ex dragontheclan.com/portal
dragontheclan.com/topic=
#examplexamlpe
??
Hello if your forum is not going to the address then you have done something wrong or it's not set up right.

For me to help you more i need to know did you buy the domain from us using the ACP or did you go to Godaddy it's self?

If you done it with the ACP tools and you paid for it by us then it can take upto 2 days to work.

If you got the domain naim from Godaddy them self then it looks to me that your address is not set up right  there end.

Problem we have is we have NO power over there system and don't give any support with there side of things.
In your ACP did you tick the Force the URL redirection
Found here >> ACP >> General Tab >> Forum >> Forum Address >> Personalized domain name Tab >> Yes then click save or ok ...
hello
@SpyroDragon
here is video tutoriel showing how to configure an external domain using a CNAME. even if it's in French, the pictures speak for themselves and you can easily recognize the different admin panel areas

hope this will help

The Godfather

Admin

istrator





Posts

: 3035


Reputation :

418



---
Permissions in this forum:
You
cannot
reply to topics in this forum