Our forum wordnerds.omgforum.net is a fansite dedicated to David Cook and his fans. It has been active for more than four years now and it still isn't showing in Google searches for key words like david cook, david cook fansite, cook forum, etc. etc.

Do you know how can we make it to appear?




Made

Foru

me

mber






Posts

: 180


Reputation :

6





When your topic has been solved, ensure you mark the topic solved.
Never post your email in public.
Hi,
For me it even comes up as the THIRD result, congratulations on such a successful forum
=>
http://www.google.co.uk/#hl=en&sclient=psy-ab&q=David+cook+fan+forum&oq=David+cook+fan+forum&aq=f&aqi=g-K1&aql=1&gs_l=hp.3..0i30.13369.17652.2.17930.12.11.1.0.0.0.125.1121.6j5.11.0.eish.1.0.0.zCZkHIt7nP8&pbx=1&bav=on.2,or.r_gc.r_pw.r_qf.,cf.osb&fp=4d2a2500bec4723&biw=1366&bih=664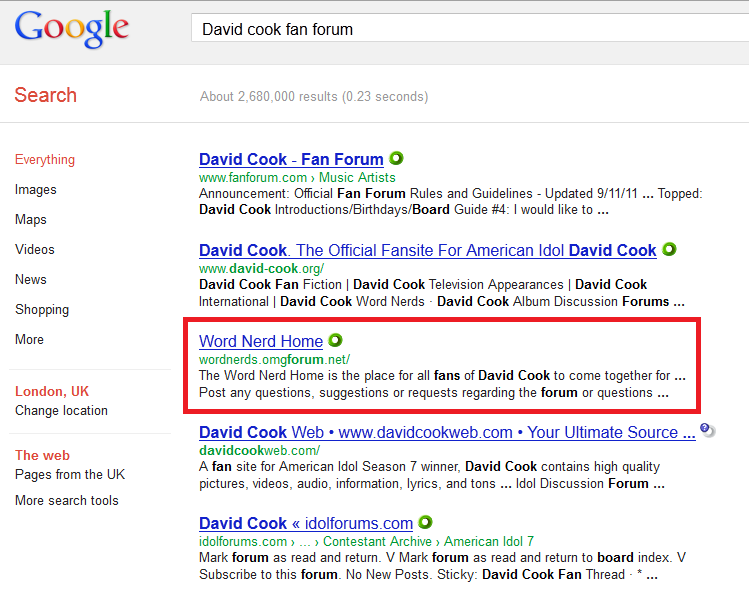 Darren1

Help

er







Posts

: 11853


Reputation :

566


Language

: English



Darren1 wrote:Hi,

For me it even comes up as the THIRD result, congratulations on such a successful forum

=>

http://www.google.co.uk/#hl=en&sclient=psy-ab&q=David+cook+fan+forum&oq=David+cook+fan+forum&aq=f&aqi=g-K1&aql=1&gs_l=hp.3..0i30.13369.17652.2.17930.12.11.1.0.0.0.125.1121.6j5.11.0.eish.1.0.0.zCZkHIt7nP8&pbx=1&bav=on.2,or.r_gc.r_pw.r_qf.,cf.osb&fp=4d2a2500bec4723&biw=1366&bih=664

kirk

Foru

master






Posts

: 11037


Reputation :

653


Language

: English,Vulcan,Klingon, Romulan,& Gorn



---
Permissions in this forum:
You
cannot
reply to topics in this forum