Technical Details

Forum version : phpBB2
Position : Founder
Concerned browser(s) : Mozilla Firefox
Who the problem concerns : All members
Forum link : ( link is hidden, you must reply to see )


Description of problem
Hi all. In our forum all new members are limited to post PM until the staff decide they are able to do it. But from 2 weeks, when I go to members profile and try to click on the option for limited PM, on the field for members EMAIL I see MY USERNAME and when I try to save the changes, the error occured - the password is incorrect and the mail address is invalid.
So, I tried several times to change something in user profile and every time the members password disappears and I see MY USERNAME on the field for members email. Help?
Hello
Could you please provide a screenshot to be sure I've well understood you problem
?
Thanks in advance
Hello
I am not sure to well understand... You username is Algona on the forum. Am I right?
I have tried to modified the password of
fanthomas
and managed without problem...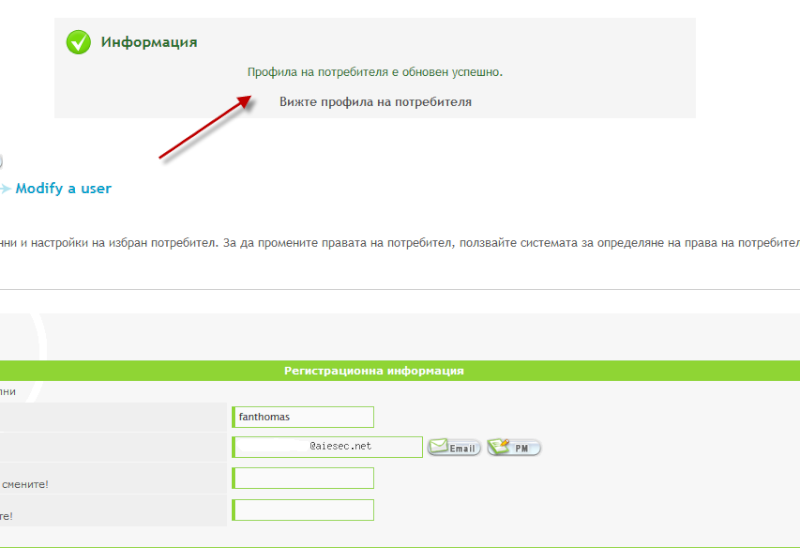 Maybe I missed something...
Thanks for your help  

Yes, I am the founder and admin with username algona.
Please, can you try to restrict the PM of this or someone else  from users and see what happens? I have trouble to do this for every member. Thank you.
Hello
I have disallowed private message to this user without trouble

You are just fantastic. Problem solved, thank you
Your welcome. happy to help your
Topic solved and archived


When your topic has been solved, ensure you mark the topic solved.
Never post your email in public.
Admin

istrator





Posts

: 50335


Reputation :

3473


Language

: English


Location

: United States



---
Permissions in this forum:
You
cannot
reply to topics in this forum