Page 2 of 2 •

1, 2

First topic message reminder :
Hello,
We are not receiving
email notifications
of topics that are being watched. All was fine up until a couple of weeks ago, and now some members receive them intermittently and others do not receive any.
I have posted screen shot on the forum of how to set up the users profile to ensure that emails can be received, and checked all settings in the ACP.
I went to the extent of setting up another email account with my ISP, to ensure that the email address was not being blocked. I have proved that this works as I can send emails to the users from my site. I have been chasing this problem for about 2 weeks now and I have done all I can to try and resolve it.
All other notifications are working on the site as normal.
I would appreciate some advice from your team to help to try and sort this out.
Thank you in anticipation of you support.
Kindest Regards,
RB.

http://www.matureozchat.com/
---
Hello,

I can not reproduce the problem! everything works perfectly on my side. Do you still have this problem? if so, can you list me your mail service provider ?

may be it's a blacklisting problem located in some of our IP's by some emails providers which might explain why I'am unable to reproduce the problem. but this remains to be confirmed...

The Godfather

Admin

istrator





Posts

: 3023


Reputation :

413



@The Godfather
im still getting the problem
Email provider Hotmail.co.uk and Live.co.uk
EDIT:
as you can see in my settings i have the following



as you can see i got no Email from the system when i was watching a topic and you and the member replied to the topic i was watching here on the support forum.
I have an update on my part.

The email that I had used to register on the forum with the problem and the one that was -until a few weeks ago- receiving email notifications, was my gmail account. I thought I might try changing that email and I did. Now I'm using my hotmail acount which is receiving the emails with no problem.

However, I do not like outlook/hotmail and I consider it a temporary fix.

Nemesis of Love

Fo

rumember






Posts

: 31


Reputation :

4


Language

: Greek, English


Location

: Westeros



We released a patch adding an SSL certification to emails sent by our servers. By testing Gmail in particular, we do not have the alert with the red lock on the received messages. From our side, everything works well and seem's to be ok. I receive all the notification emails.
Before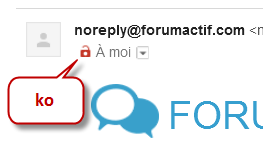 After
Is the situation changed on your side?

The Godfather

Admin

istrator





Posts

: 3023


Reputation :

413



No, its not working. I tried to switch it back to my gmail. I get this on the forum:
Ένα e-mail επιβεβαίωσης έχει αποσταλεί στη νέα διεύθυνση e-mail σας. Για να ενημερωθεί η διεύθυνση e-mail σας, πατήστε πάνω στο σύνδεσμο που περιλαμβάνετε στο e-mail επιβεβαίωσης
which is just saying that an email was sent to the new email i want (in this case, the gmail) and that to confirm the change I'll have to follow the link in the email sent.
But, its been quite a while now and i still have not seen any email on my gmail.
When I changed from gmail->hotmail, i got this confirmation email within a few minutes and once i followed the link, the notifications for the topics started coming as usual.

Nemesis of Love

Fo

rumember






Posts

: 31


Reputation :

4


Language

: Greek, English


Location

: Westeros



I'm still not getting any Emails from this site or any other site of FM's on Hotmail,l ive or outlook,
Just a suggestion:
You may want to check if your antivirus programs are blocking emails. Also If you happen to be running Win 10 OS make sure your email accounts are synchronised.
It's not that as i get Emails about new members and news letters just not about new posts in a watched topic or A PM from any forum.
Page 2 of 2 •

1, 2
---
Permissions in this forum:
You
cannot
reply to topics in this forum