Hello there.

I'm shopping around for a forum host with the features I'm looking for and yours is in the running. I like what you offer.

I'm visually impaired so I do have trouble with a few things, and one of those is not being able to easily find what I'm looking for. It was two days before I even got a hint that this 'FREE' costs. Something called 'credits'.

OK, removing ads, that sounds reasonable. Domain name? No, I won't be needing that to start until my proposed forums performance is evaluated. Then, I find a post in the support forum saying that the credit prices vary according to how active the forum is, and some mention of paying monthly for storage space. Is all this some kind of secret?

It seems this 'Free' is fat from it and is a bunch of deceptive advertising. I can tell you if your company was based in Australia, you'd be shut down in 5 minutes for deceptive behavior. By the way, what country are you based in? Even that is hard to find.

So, how much are these credits? Show me a price list or I move elsewhere. Oh, and if this free does cost, am I allowed to put on a PayPal donation button on my forum so the happy forum members can help me pay for this free forum.

Yes, I am getting annoyed with you, but better now then when I have set up something then I'm basically held to ransom later.

You best be nice to me then, your Admin has been rather sarcastic to others that I've read in here who have asked about prices.

tamxir

Last edited by tamxir on January 26th 2017, 5:02 am; edited 1 time in total

tamxir

New

Member




Posts

: 3


Reputation :

1


Language

: English



I never knew credit prices vary
hello i think i can clear things up for you here.
Out host is 100% free and will stay that way unless we go broke.
Now we have some limits that can be found here  

HERE!!
Now as you have read we do have a small Price for domain names (limited to one year at a time but can renew every year) This is the same price for every one.
storage space:
You get a total of 20Mb Free  then you pay for it monthly after you run out of space. (more information can be found  

HERE!!
If your forum is new it will come with the new forum  HTTPS address but if it's an old one then it will start with HTTP and to change over to the new HTTPS address it will cost 500 credits.
So yes our forum's are 100% FREE and we even offer 100% FREE support to everyone.
We are really cheep when it comes to removing ad's from your forum and we are also really cheep when it comes to having domain names and we do all the work for you.
Donate system:
As for your Request to add a PayPal Donate button well YES sure you can do so but we will not take responsibility for any money changing hands but you can not make money by asking members to pay for things on your forum.
and you must make it clear to your members that this button is hosted by you and not us.
if there is any more info you need please feel free to ask we are always here to help

Domain name is always the same no matter of your forum is busy or not.
Removing the ad's will always cost you the same every time you update it.
Removing the copyright  links on your footer and tool bar will always be the same.
There is no change to the price of what you pay to how busy your forum gets.
But if your lucky you could get a Free domain name but this is picked at random and your forum has to be really busy all the time and it may not be renewed by us the following year.
Thank you for your explanation.
So, regarding storage space for the Gallery/Attachments, I am reading that there's 20 Mb free for those, and any more costs additional. What happens when forum members imbed images in their posts. Does that fall into the additional storage category?
Regarding the reply above by MissPeachie about changing prices - I got that impression from this quote from your Admin 'SLGray' and I quote - "The prices can change because of your forum's activity."
That topic can be found here.
https://help.forumotion.com/t146848-cost-of-credits
Can you clarify that for me please, and still I don't have an answer to my question without actually creating a forum? How much do credits cost? USD, EUR - I don't care what currency. It is not my practice to commit myself to ANYTHING without having some idea of what I am up for as far as costs are concerned. I'm afraid the assurance "really cheap" is relative to what you have.
So the question is: - How many credits does it cost per month to remove ads, and what does that relate to in real currency? I also presume you, as well as most of the corporate world do conveniently for there own benefit, define a month as meaning 28 days or 4 weeks. Calendar months aren't profitable

Thank you for your help. You are impressing me so far.
tamxir

tamxir

New

Member




Posts

: 3


Reputation :

1


Language

: English



If you mean using the host an image button in the editor, the answer is no.  An account is set up for them on the image hosting site.  For example on the support forum:  the image hosting site is Servimg.

Yes, the price could change if your forum becomes very activity.  Since you might be starting a new forum, you will not have to worry about this right now.  

The prices are listed in the administration panel of your forum.  

Also the payment options shows what your currency (amount) will equal in credits.

All staff here, except for The GodFather and our ProAdmin (not one now), are all voluntary staff.  We do not work in the main offices (France).


When your topic has been solved, ensure you mark the topic solved.
Never post your email in public.
In regards to the activity for the changing of currency prices, can someone define 'very active' for me as well as the 'level' the forum needs to pass in order to reach that? Does that equate to a standard number of posts, the amount of people within the forum that log on daily, and/or the number of members that have registered?
We don't have the data to say the total of members that need to log in to say its active but we are talking about 100's a day or week. ok so this is the cost of the credits in pounds UK money
Credits price in UK pounds: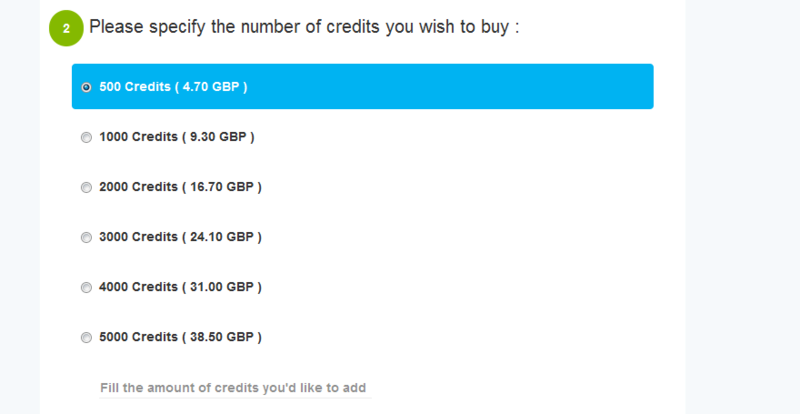 Price of credits for removing ad's:
Domain address from us:
2000 Credits A Year.
Copyright removal's:

Storage:

Now your not committing your self to make a forum as i have said its free and you can Delete the forum at any time.
As for the items uploaded to the forum by servimg.com and other hosts linked to your forum well this free and you can use it as much as your like as this is not linked to the Gallery it's a outside host like photobucket and tinypic .com
I can see me paying nothing

and will probably just delete my forum
You don't have to pay anything
@cassini
I'm not sure what your problem is you need to make your own thread for your problem or concerns
Thank you very much APE, you have provided the information I need.

Indeed your prices are attractive as you mentioned earlier, and you are probably right that I set up a forum and take a little time getting to know how it all works before going live. It certainly looks like I'll enjoy setting everything up, and no doubt I will have further questions as I go along.

You've been a great help. Thanks again. SOLVED

tamxir


tamxir

New

Member




Posts

: 3


Reputation :

1


Language

: English



| | |
| --- | --- |
| | Problem solved & topic archived. |


When your topic has been solved, ensure you mark the topic solved.
Never post your email in public.
---
Permissions in this forum:
You
cannot
reply to topics in this forum