Administrators:
Mario
Moderators:
Dr. Evil, High Priestess Paula (Both inactive, due to lack of active members, but they are both willing to come back when there are more members)
Forum's main theme:
Anything, but there is a category reserved for gaming.
Notes:
Anything that seems to be very popular gets it's own subforum, and all suggestions for arcade games and emoticons are taken. I also made almost every emoticon/smiley. Also, there are a lot of Boards that I may delete, if they don't get enough interest. The category it is is all-around, but if there is nothing like that, then it goes in Gaming and RPG. The main language is English. And one final note,
this forum was made to fit the exact likings of Guest!
Mario Madness's Categories:
Forum:

Suggestions

Announcements

Court
Community:

Member's Lives

New Members, Returning Members, and Leaving Members
Gaming:

General Mario Games

Mario RPGs


Mario & Luigi 3

Mario Spinoffs


Made in Me

Other Gaming


Gaming News


Game Reviews


Retro Gaming & Virtual Console


Forum Games


All Other Games
Discussions:

Intelligent/Heavy

Light


Favorites


Spam


Advertising

Mature
Other:

Locked Topics

Your Creations


Writing and Fanfiction

Media

Support

Arcade
Restricted:

Bad Members

Good Members

Mod Lounge
Guest Areas:

Forum Opinions

Discussion

Anger Management
Mario Madness's Layout:
(Note: The text is larger than these pictures show)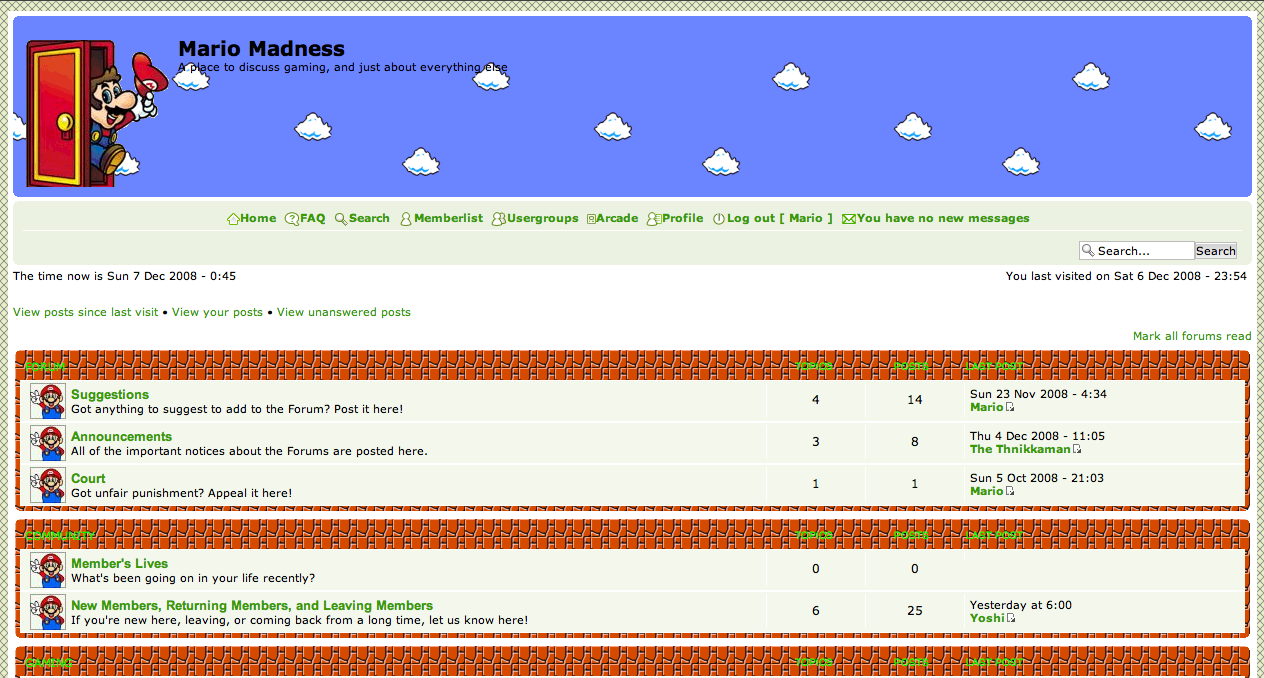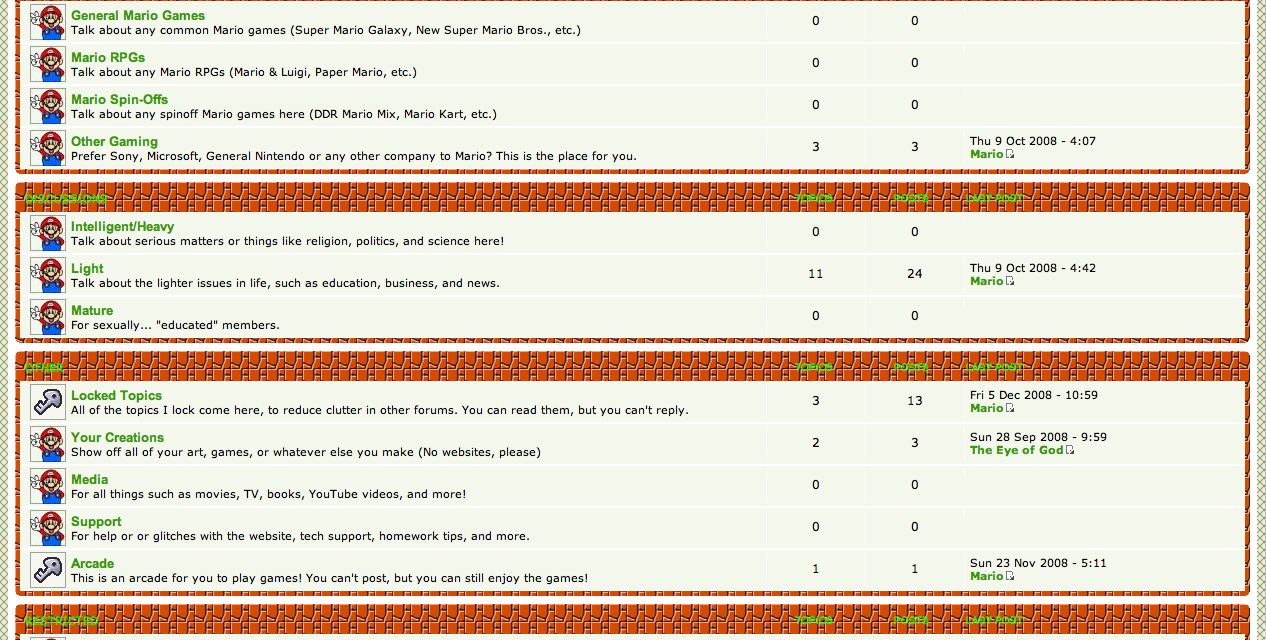 Mario Madness's Forum & Thread Icons:

Mario Madness's Stats:

Mario Madness's Emoticons:
as of 11/24/08
Emoticons
Note: The pink one is

and the one next to the 2 red mad ones is
Characters and Celebs
Animals
(Nothing here as of yet)
Other Things
Come on a join! It's going to be amazing when we get more members!
http://mariomadness.forumotions.net/forum.htm
Last edited by MarioMadnessAdmin on December 6th 2008, 5:57 pm; edited 3 times in total
Attention! I've fixed the Capone\ problem on my forum. Look over the first post again, a lot has changed.

I've also added more emoticons and a lot more features. Time to party!
We've got active members now, and I'm sure they'd love to meet you!
We've added Moods!

Choose an emoticon to show the mood you're in, and display it on your profile!
So this was purely to fit my likings? AWESOME
Also I was wondering if I could try to become a mod, I've had lots of exp


skillboy

Foru

me

mber






Posts

: 119


Reputation :

0


Language

: farsi



---
Permissions in this forum:
You
cannot
reply to topics in this forum