Hello there....
My english arent that good, so forgive some mistakes or bad explanation of describe the problem!!!!
In here is an img for you to see the forum and the subforums as 'admin'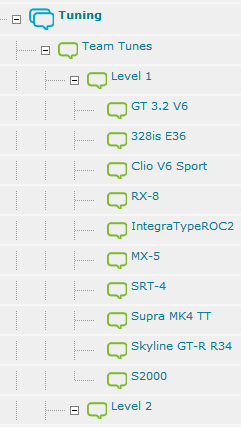 And here is an img from my index page and the forum with the 'problem'
The images in front of the names of subforums (Mini category, Mini category - New)
they dont lead me in the newest post, but in a empty page that says:
''Information
The topic or post you requested does not exist"
When i click on the little image at the right (lastpost)...it leads me normal to the newest post as was excepted!
hERE are the links that i have from both images,,,,they are similar but only the first (from last post image at the right) is working...
http://MY-NAME-FORUM/t50-level-3-1-mile#95
http://MY-NAME-FORUM//viewtopic?t&topic_name=level-3-1-mile#95
(that is the 'wrong link', when a click on the left category images and see the empty page with info)
Any idea?
Thanks (and sorry for poor explanation)
Last edited by eTmaxD on November 25th 2012, 6:54 am; edited 1 time in total
Uh.... the thing says: Oops! Google Chrome could not find my-name-forum

._.

Also, did you make sure you posted the post in the section where you need them to be?

Can you please link us to your forum so that we can do a test there? And if my brain's making sense right now, you want that the sub forum links you to the specified topic, right? But yeah, as I said, did you post it in that section?
The links i gave arent real....i changed the name of my forum to "MY-FORUM-NAME"....
Here is a test account....feel free to make some posts at level 1 and test if it works....
Thanks for help.....
http://etmaxd.forumgreek.com/
test
123test4
Clicking on the image next to Level 1, level 2 wont take you to the newest post since they are sub-forums.
thanks SUNKET....think i got it....
Works fine for subforums , but not for sub-sub forums (i test it all the way)...

When your topic has been solved, ensure you mark the topic solved.
Never post your email in public.

Since the topic was marked solved...

Jophy

Forum

Guru






Posts

: 17924


Reputation :

835


Language

: English


Location

: Somewhere



---
Permissions in this forum:
You
cannot
reply to topics in this forum