I have a gaming forum with hundreds of videos of youtube gameplay posted to it, been up and running for a year and a half now, and all of a sudden as of a week or two ago the videos are not displaying properly in google chrome but play just fine in internet explorer (i havent tested firefox). Once the video begins playing after a few seconds if you take the mouse off the video box the top text and advertisement on the bottom start spazzing out, flickering a bunch, instead of removing itself from the video player. here is an example post on the forum
http://reviewzonehd.forumsclub.com/t2065-top-10-dead-zombie-game-countdown#5313
I have checked with other users and others are experiencing the same issue, so its not just my google chrome. I'm using the same flash string as i have always used, for the above video this is the script posted into the forum
which is
[ flash(500,425)]
https://www.youtube.com/v/kzqewKYy9hY[/flash
] -- without the spaces between the [] brackets
I'm really not sure where to begin trying to resolve this issue, i don't think there is anything i can do on my end to get it fixed. It's also not displaying properly in this area of the forum either. I would imagine my forum will lose a lot of traffic if this doesn't get resolved. Any help would be appreciated.

zer0tobackdown

New

Member




Posts

: 6


Reputation :

1


Language

: english



I do not see any issues with the video in your post or on your forum. Is your browser up to date?


When your topic has been solved, ensure you mark the topic solved.
Never post your email in public.

kirk

Foru

master






Posts

: 11037


Reputation :

653


Language

: English,Vulcan,Klingon, Romulan,& Gorn



I had two flash plug ins running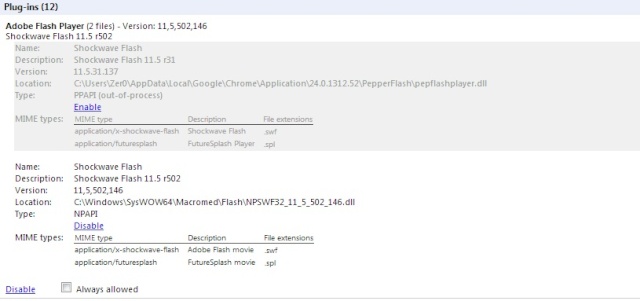 I disabled the second one, and it still didnt fix it. So i updated the first one which had some sort of "security update" link on the chrome://plugins/ browser page shown in the photo. Once it updated, and with the second flash player disabled, the video flash player began working correctly on the forum and on this page as well.
I had other users state they were having the same problem, so i guess anyone that doesn't update to the newest Shockwave Flash 11.5 r502 version is going to possibly have an issue.
Thanks for the help, once you stated that it was working fine in your browser i kind of figured it was an issue with my own chrome browser. You can close this topic, sorry to bother you guys on this.

zer0tobackdown

New

Member




Posts

: 6


Reputation :

1


Language

: english



As requested by the author.

Sanket

Forum

Guru






Posts

: 48766


Reputation :

2829


Language

: English


Location

: Mumbai



---
Permissions in this forum:
You
cannot
reply to topics in this forum