Hello. I'm sorry if I accidentaly post this to wrong section but anyways I have a problem with a like button script. I got the script from 
https://help.forumotion.com/t108561-a-new-like-dislike-system-phpbb3-and-invision
 and did everything as it was told but I can't seem to find my like button... I copied the PHPBB3 script as I was told, I double checked my forum version and it showed me that PHPBB3 is correct for me 
Under ACP > Modules > Javascript Management I made a new javascript with the right code and it submitted without any errors.
But under ACP > Display > Colors > CSS Stylesheet I didn't know where to exactly put it and i created a new section for it on the bottom of the CSS and marked it with /* LIKE */ But I don't know why doesn't it work. Can someone please help me. And if something was unclear please ask.
Last edited by dnbESTgaming on December 9th 2013, 11:52 am; edited 1 time in total
Did you activated the reputation system?

Administration Panel > Modules > Points/Reputation > Reputation

When your topic has been solved, ensure you mark the topic solved.
Never post your email in public.

I did it now but I can't seem to see the like button I put to the forum with script.
Did you remember to tick 'in the topics' ?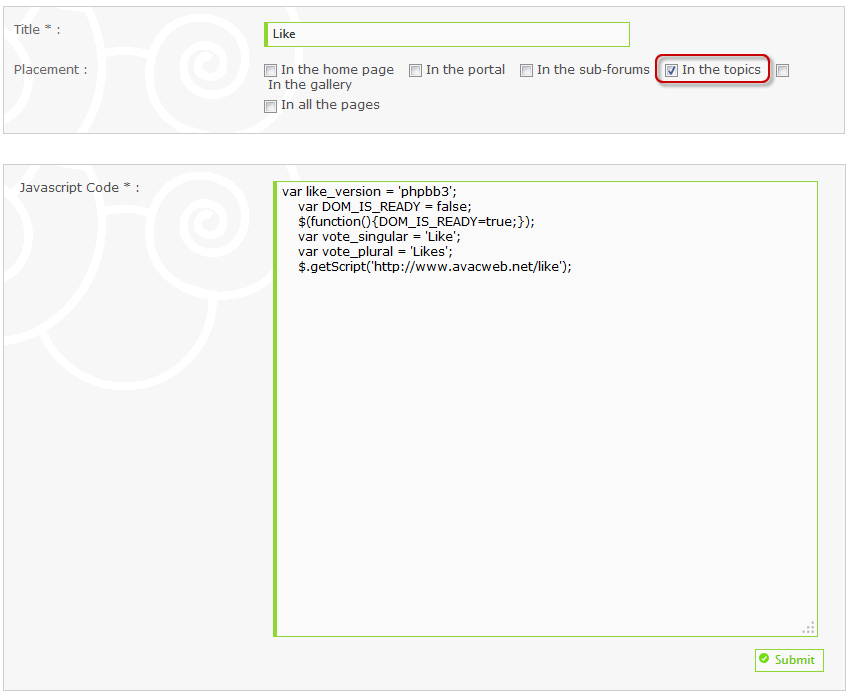 The CSS is most likely not the problem as it is only used to style the button. This is how it would display if the CSS was not working :
Your reputation system is active as well ?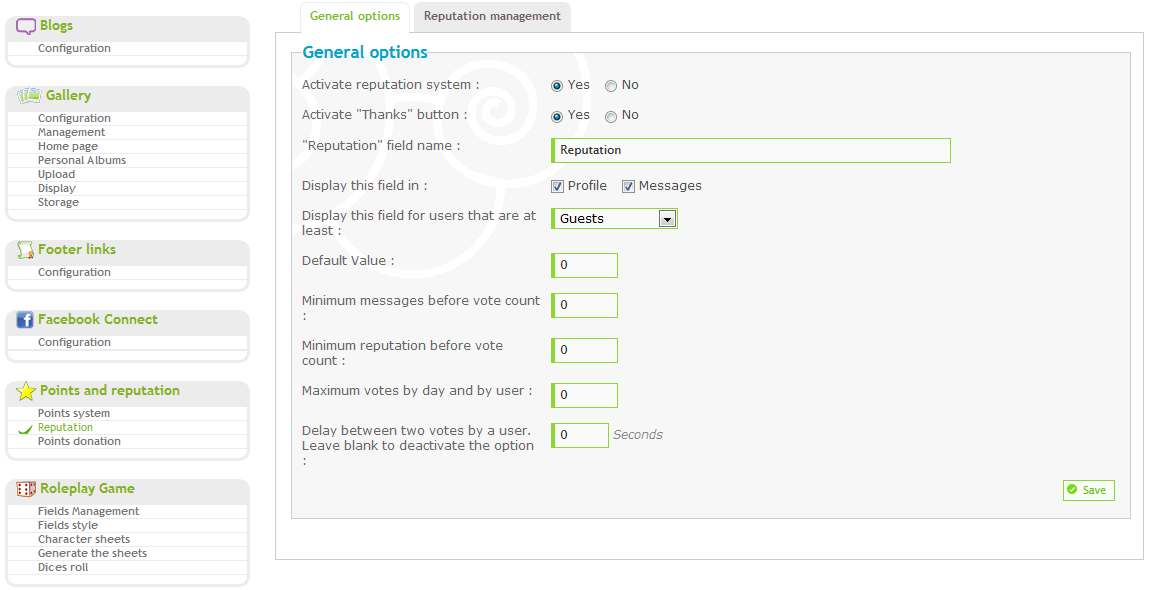 I've made a few tests, and tested the scripts you had to see if anything was conflicting, but it still worked.

Try the following :

1. ) Resynchronize your forum
Administration Panel > General > Configuration > Very bottom check 'resynchronize forum' and save.

2. ) Clear your browser cache
Last edited by dnbESTgaming on December 9th 2013, 11:51 am; edited 1 time in total (Reason for editing : Problem solved)
Good to see you fixed the CSS

Topic solved and archived
---
Permissions in this forum:
You
cannot
reply to topics in this forum