I have had several users report to me lately that they cannot send me PM's and that they are not receiving them from me . I believe most users still can . IDK .What could cause this ? Have not changed anything . Also what is the difference between my outbox and my sentbox ? Why do they show different messages .

Ok thanx . 

About the P M's . Somebody told me he couldn't respond to me that the " refile " isn't on or something ? Is there something I can do to change that ?

Everything is enabled . This may be another case of a temporary glitch in my browser . There have been a couple features that stop working or I get a weird view in AP. It all seems to be ok now . There are so many things that are so much better with my Maxthon browser I guess I just will have to live with a couple glitches now and then . Thank you . SOLVED .
Last edited by Buttercup on December 24th 2014, 11:45 am; edited 3 times in total (Reason for editing : add comment)
Sendbox:   read
Outbox:  unread


When your topic has been solved, ensure you mark the topic solved.
Never post your email in public.
Do you have it set that users can PM you, because if not that would be the problem right there. You should check your profile settings!
Happy Holidays all!



Remember to mark your topic

when a solution is found.
The problem seems to be that a couple guys are not able to P M me . Yes everything is enabled .
Private Messaging
I cannot send private messages!
There are three reasons for this; you are not registered and/or not logged on, the board administrator has disabled private messaging for the entire board, or the board administrator has prevented you individually from sending messages. If it is the latter case you should try asking the administrator why.
. 
None of these seem to be the problem 
Hello,

Is there a post requirement for private messages enabled on your forum? You can check this at:

1. Administration Panel (advanced mode)
2. General Tab
3. Private messages (on the left, under Messages and e-mails)
4. Minimum posts before sending private messages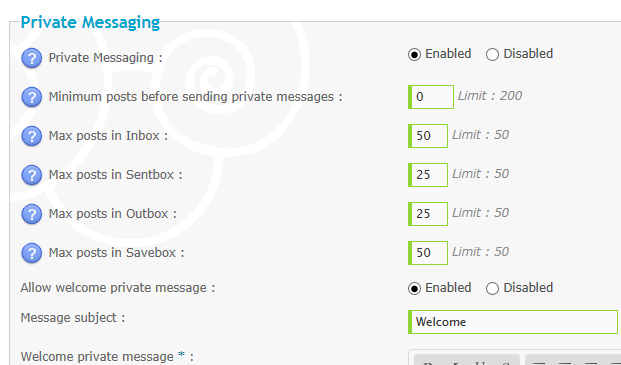 Everything seems to be in order . Now it is down to only one member . that cannot PM me I think .
Administration Panel > Users & Groups > Users > Search Users
Enter the username of the member who can not send a pm.  Press the username which will load the member's profile.  Scroll to the bottom see if the yes box is checked for send pm's.


When your topic has been solved, ensure you mark the topic solved.
Never post your email in public.
---
Permissions in this forum:
You
cannot
reply to topics in this forum