Hi,
I am Graycee, owner of a new Forum called Bratz & Friends Here:
My members are c/o that they can't edit or delete their own posts. I have given permission for them to edit own posts, so when that didn't work I gave them permission to edit & DELETE own posts and still nothing..I know that the delete part should only be done by ADMINS, but I thought maybe it was tied in together...NOT..Now they can delete but not edit...I really just wanted them to edit and contact an ADMIN if deletion was nec. due to keeping their post count accurate, so I am perplexed here.
Quote and delete show up on their posts, but not edit...I have had 2 other Admins check and they say I have given them permission to edit and dk why they can't. Even with the timeout thingy, which made one of my ppl leave cuz she takes time posting and this is annoying to her and to me personally, esp. if you are OLD! LOL
One of my members took a screenshot so I could see that there was NO edit button...
I can't really tell cuz I have ALL the buttons & see them ALL on her posts and dk how to fix this...Can you help?
TY,
Frustrated in Bratzville,
GrayceeJewel1
Hello,
First of all, please don't use bold as this option is for staff members.
Could you please tell me which member cannot edit their post (give me their username)? Do you have a screenshot please? Thanks

Shadow

Admin

istrator





Posts

: 16204


Reputation :

1811


Language

: French, English



OK,above is the Screenshot, as best I can...Her name is Gremlins Mom and she is the only one who has answered me about the inability to edit own post..There might be others, but haven't told me, even when I asked.
Also, sorry for the BOLD, but I have problems seeing, but I won't do it again.
TY,
GrayceeJewel1
Hello
After investigation, I found where the problem came from

In your admin panel general> Message & email>> Configuration. There is an "edit duration". As the duration was on zero on your forum, your member was not able to edit her post. Now the option is turned to "none"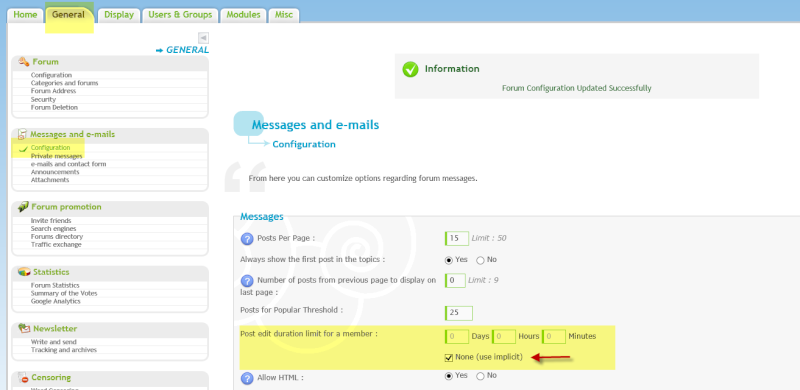 You can remove my test topic:
http://bratzandfriendz.forumotion.com/t257-test-topic-creation
Sorry for the time it takes


Shadow

Admin

istrator





Posts

: 16204


Reputation :

1811


Language

: French, English



TYSM...You are a Godsend...Now if I can fix the rest of it, I'll be fine and the members will be happy...
This forum is so different than YUKU and I know I could get fancier in there, but all the codes and all I don't understand, so I will just muddle along until I get more brave to take on a new look...Ha
A few minutes ago, I couldn't sign in to the area you left me ..I got a 404 Error..Do you think that was because I wasn't signed into here? I sure hope so, cuz I couldn't get into Bratz either...That is not good!
I may be back. LOL
Hugs,
Graycee

@GrayceeJewel1
, if you get a 404 erreur, don't worry.

There's currently an ongoing problem, but it should be resolved soon.
https://help.forumotion.com/t140482-only-topic-404-error
As now marked as solved i will lock this thread.
Any problems please pm a member of staff with the url of this thread.

APE
---
Permissions in this forum:
You
cannot
reply to topics in this forum