I really hope I'm putting this in the right spot.
We have a phpbb2 forum.
Is it possible to add another button beside the like button?

I would like to do something like this non-forumotion site.

Is it possible?
Also kind of a side question....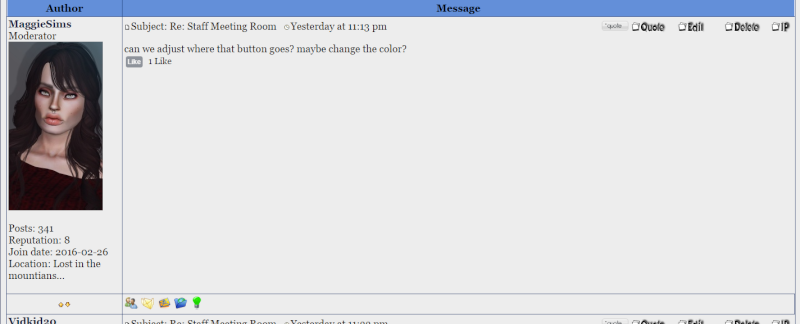 Can I move the button slightly more toward the bottom away from the text for those who don't have a signature?
Last edited by Vidkid20 on March 28th 2016, 10:11 pm; edited 1 time in total (Reason for editing : Bold text)
Please do not use bold text.

When your topic has been solved, ensure you mark the topic solved.
Never post your email in public.

Oh I'm sorry. I knew I would do something wrong.
As far as the like button goes, it's a modification of the reputation system which only tracks Positive and Negative votes. There's no other system on the forum that tracks votes, so you can only have two buttons, but only submit a vote for one of those buttons. You could make a pseudo-vote system, but the only way I can see that working is by having your own database to keep track of the votes.

tl;dr
It's possible to have multiple buttons, but would require advanced technical knowledge to develop.
Well I'm pretty clueless when it comes to this stuff. I would be fine if the button only count one or the other. Just as long as I have 2 button choices. If that's impossible with my lack of knowledge on this stuff then I may have to mark this as solve. I don't want to be a nuisance.
B/w your hints and tips threads are awesome, Ange Tuteur.

---
Permissions in this forum:
You
cannot
reply to topics in this forum