+22
OngBak
Beyonder
skouliki
indofishclub
HeroxAquariophile
xRateD
Severus_
NewFoundStories
Bigtuber
Ace 1
YoshiGM
Goppyrules
pottermind
jucarese
Tonight
Valoish
TheCrow
SLGray
BlackScorpion
Van-Helsing
Milouze14
Ange Tuteur
26 posters
Page 4 of 4 •

1, 2, 3, 4

First topic message reminder :
Introduction
In this topic you will learn about Forumactif Messenger and how to install it on your
Forumotion
forum. Forumactif Messenger is a JavaScript plugin that integrates with your Forumotion forum to enable real time messaging in topics in a minimal design to make the experience more engaging.
Forumactif Messenger is optimized to work on all major forum versions for Forumotion, so long as your forum's templates aren't heavily modified. Additionally Forumactif Messenger is enabled to receive updates from its
Github repository
to ensure that you are always using the latest version for the best experience. If you're ready to install Forumactif Messenger, move onto the next section or check out the demo by clicking the button above.
Jump to...
Installing
Installing Forumactif Messenger on your forum is super easy. Go to
Admin Panel > Modules > JavaScript Codes Management
and create a new script with the following settings.
Title :
Forumactif Messenger
Placement :
In all the pages (or the page you want Forumactif Messenger to appear on)
JavaScript Code :
Since the code for Forumactif Messenger is constantly improving, we ask that you copy the latest release from the link below.
https://raw.githubusercontent.com/SethClydesdale/forumactif-messenger/master/fam.js
(You can use the shortcut
CTRL+A
to select the entire code)
Once the code is copied, paste it as the JavaScript Code and save.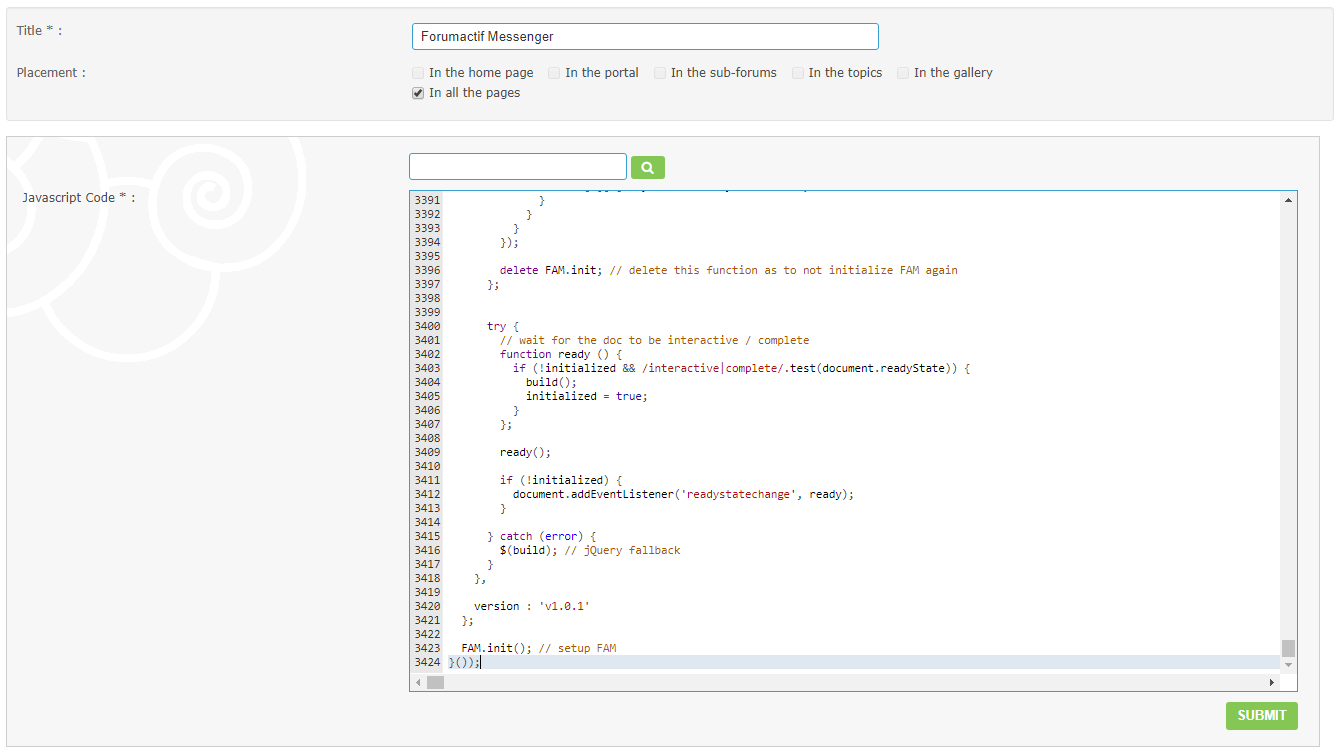 Congratulations ! You have now installed Forumactif Messenger on your forum !
Proceed to the next section to learn how to use Forumactif Messenger.
How to Use
If you have successfully installed Forumactif Messenger you should see a new icon in the bottom right hand corner of your forum that looks something like this -->
. Clicking this button opens the Forumactif Messenger window, which displays a minimal version of your forum. You may find the interface to be somewhat familiar if you have used an SMS or IM application before.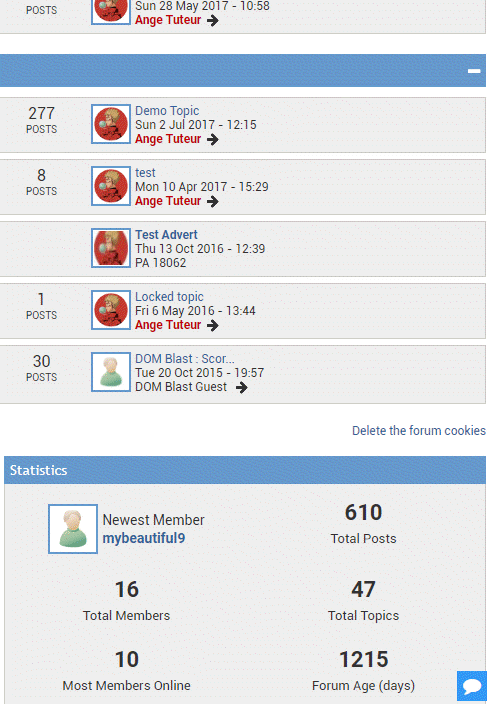 Go ahead and click through your forums, and find a topic to test out Forumactif Messenger. Once you have opened a topic, you should see a textarea along with 3 buttons at the bottom of the window; these are the message actions. For now, enter you message in the textarea and click the paper plane (

) or press ENTER to submit your message.
TIP :
You can use
SHIFT+ENTER
to add a line break to your message.
You should have noticed that all this time you navigated through your forum and posted a message without ever leaving the page you are currently on ; this is just one of the many powerful features that Forumactif Messenger provides you with ! Now previously we mentioned 3 buttons for the message actions. You already used one of them, which is for sending messages. The other two buttons allow you to enter emoticons and attach media to your messages. Go ahead and try them out !
Last but not least is interacting with messages ! If you click the username of someone's message it'll add their mention handle to the message box, so you can mention them in your message. Additionally when you hover over any message, message actions will appear below it. These actions allow you to quote, edit, or delete a message, depending on your permissions. Go ahead and give these features a try !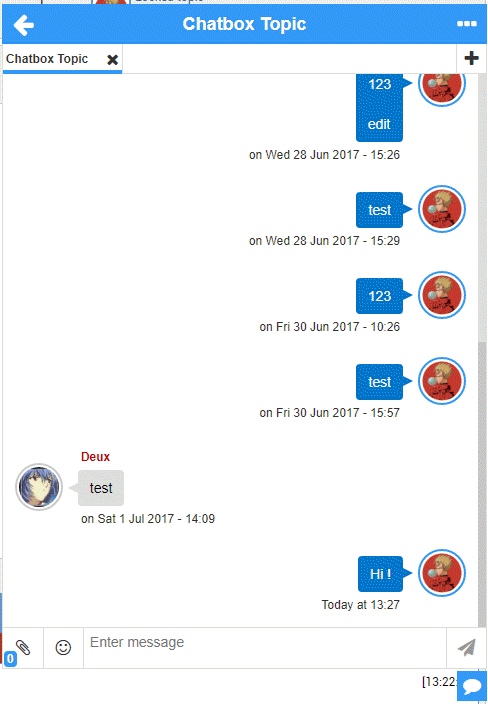 Congratulations ! Now you know how to use Forumactif Messenger for messaging.
Next up you will learn about the settings page, which offers you ways to personalize your use of Forumactif Messenger.
Settings
The Settings page of Forumactif Messenger offers various options to personalize your experience. To navigate to the settings page, click the menu icon ("•••") on the Forumactif Messenger toolbar to open the main menu and then the cog icon to open the settings page.
Once on the settings page you will be met with a number of options for personalizing Forumactif Edge. Such as the option to display the window in full screen mode, the option to change the theme to a darker color, or the option to enable a sound notification for messages. As the settings are constantly being expanded upon, it'll be impossible to list them all here, so we invite you to read up on all the settings on our wiki.
https://github.com/SethClydesdale/forumactif-messenger/wiki/Settings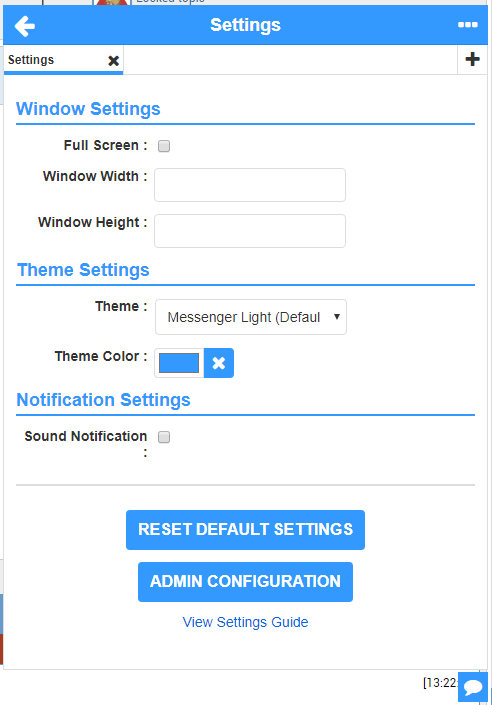 Now that you know how to use the settings page, it's time to learn how you can customize the internal settings for Forumactif Messenger by using the configuration page.
Configuration
The Configuration page is accessible to administrators only, as they are the only members who can update the internal configuration of Forumactif Messenger. To access the Configuration page you must go to the Settings page (see the previous section) and click the
Admin Configuration
button at the bottom.
The configuration page allows you to change various settings for Forumactif Messenger, from the default chat_page to the entire language interface. Go ahead and give it a try by placing
body
as the value for
Embed Container
.
Once you have set the value of Embed Container, scroll to the VERY bottom of the configuration page and click the
Update Configuration
button. This will generate the updated code for Forumactif Messenger with your configuration settings. Go ahead and replace your Forumactif Messenger JavaScript code with it by going to
Admin Panel > Modules > JS Codes Management
. Make sure to edit your existing script for Forumactif Messenger and delete the existing JavaScript code. Once the old code is deleted, paste the new code that was given to you in the Configuration page.
If done correctly, Forumactif Messenger should now be embedded at the very bottom of your forum and doesn't require clicking a button to open ! As this was just an example, feel free to go back to the configuration page and delete the contents of Embed Container, if you don't want Forumactif Messenger displaying here.
Click here
for more information on the embed option.
Well done ! You now know how to use the Configuration page. As there are MANY options for configuring Forumactif Messenger, we invite you to read about all of them on our wiki.
https://github.com/SethClydesdale/forumactif-messenger/wiki/Config
Next up we will learn how to update Forumactif Messenger, which is a very important feature.
Updating
Forumactif Messenger is open source and constantly evolving. For the best experience it's recommended that you update Forumactif Messenger to the latest release whenever it's available. To update Forumactif Messenger click the menu button ("•••"), and click About ("?").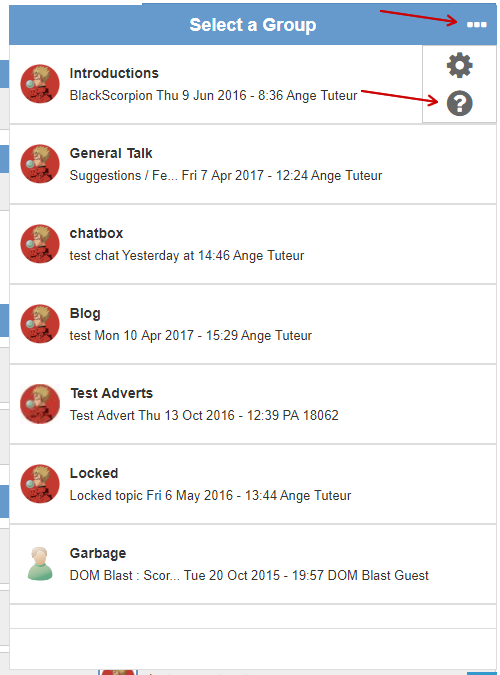 This will take you to the
about
page, which tells you what version of FAM you're running and the current release on Github. If an update is available a yellow exclamation icon will show and an
update
button will be available. Click this button to get the latest release from Github.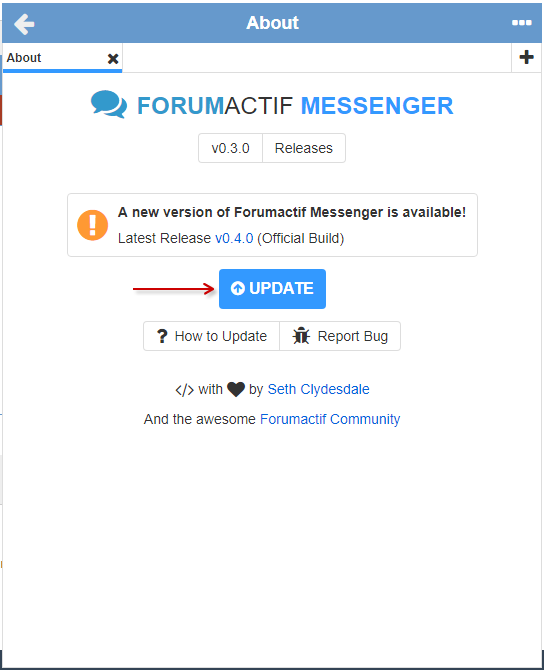 After a few seconds, the updated code will be available in the textarea. Copy this code and go to
Admin Panel > Modules > JavaScript Codes Management
and update your Forumactif Messenger script with it. Your configuration settings will be maintained, so don't worry about replacing your existing script.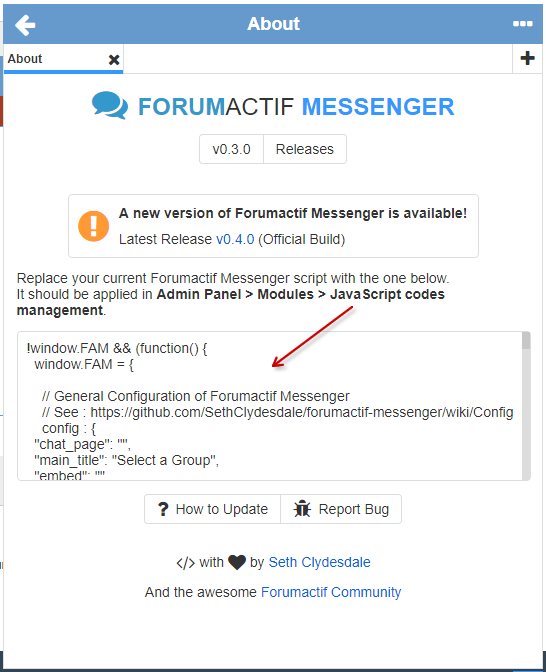 Once you've saved the updated script, go to
about
again to confirm that you're running the latest version of Forumactif Messenger. If you are, a blue check mark will display and the update button will display as
sync
instead. Clicking the sync button will get the latest release from Github again. It's mainly used in cases where you've made internal modifications and want to revert to the default code.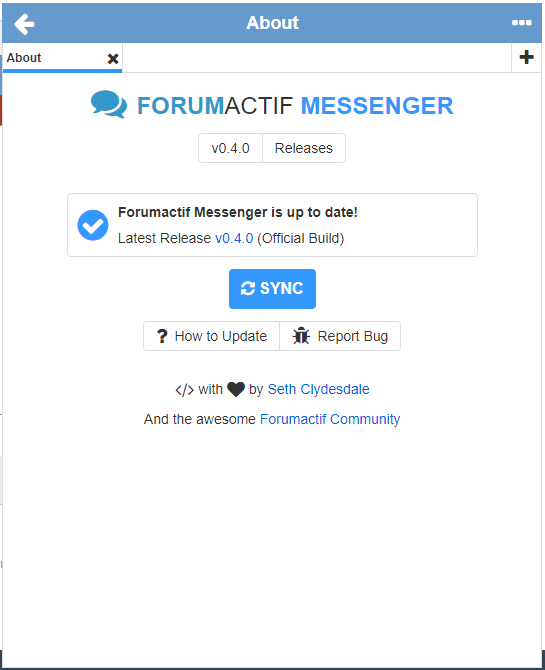 This should be all that you need to know about using Forumactif Messenger, we'll allow you to explore the rest on your own !
If you'd like to help improve Forumactif Messenger, please see the next section.
Contributing
Forumactif Messenger is open source, so anyone can help build and improve it !


Got a suggestion, have feedback, or find a bug ? Let us know in this topic with a reply OR on Github by opening a new issue !

Are you a developer with a passion for creating Open Source technology and want to improve Forumotion ? Fork the repo on Github and help out with development. See our to do list or contact me to discuss development if you have any queries.

For more information about contributing please see the following pages.
Last edited by Ange Tuteur on July 7th 2017, 8:43 pm; edited 14 times in total
Foru

master






Posts

: 13244


Reputation :

2990


Language

: English & 日本語


Location

: Pennsylvania



---
Mihai wrote:

krokodeal wrote:hi

@Ange Tuteur

my friend and i are big fans of your project that we would like to use on our forum.  

however, we had a little "issue" after installing it.

messenger appears correctly on my forum; we changed the module settings to select our messenger category but when we try to open a new topic, nothing is displayed.

the topics are not displayed, nor the sent messages.

do you think you can help us  ?

(excuse me for my really bad english, it's not my first language

)

thank you a lot!

Hello,

Like this section said: (

No support here

), you need to create a

support topic

, and type your problem there... then ange will help you

Best regards,

Mihai
Exactly in this section, it would be best to ask for help in the topics since these are not official supported by Forumotion.


When your topic has been solved, ensure you mark the topic solved.
Never post your email in public.
Admin

istrator





Posts

: 50330


Reputation :

3473


Language

: English


Location

: United States



TonnyKamper likes this post
Page 4 of 4 •

1, 2, 3, 4
Similar topics
---
Permissions in this forum:
You
cannot
reply to topics in this forum