I apologize if this is the wrong area for this, please forgive me.
Recently we had a previously permanently banned member of our forum return under a new alias with what I assume is a VPN to the identity of the original account. When he was eventually discovered he was immediately banned once more.
However last night he logged onto the site and made two accounts named 'Viper Uchiha' and 'Forumotion Support' and posted a topic that when opened made the following appear on the screen.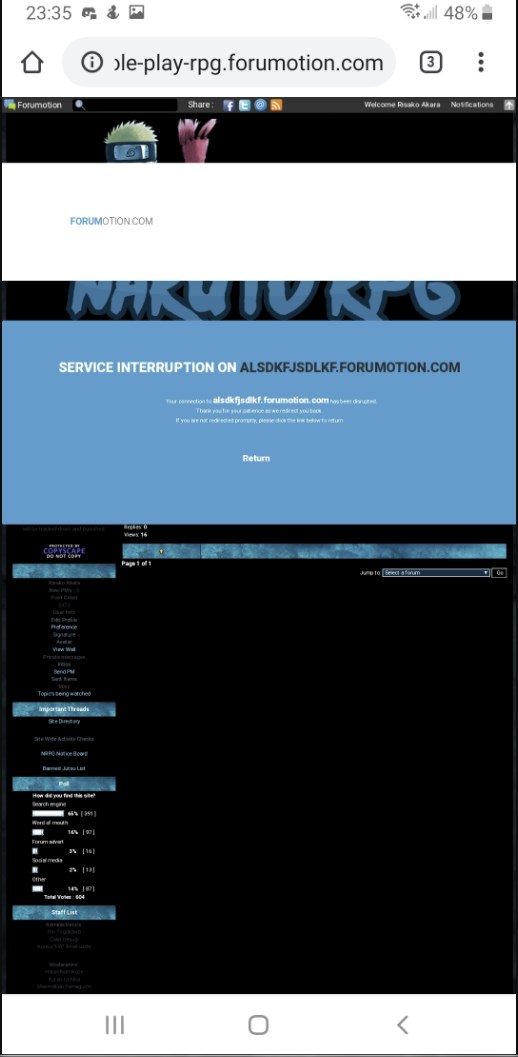 The issue was discovered to be a line of code that was embedded into the signatures of those who clicked the button. That code is shown below in the next screenshot.
Said code was discovered by a member and has since been removed from the signatures of those affected. However something suspicious is occurring after the fact.
Both accounts were banned immediately but if one looks at the accounts now they still have the ban option. Upon clicking the ban options and assigning a time frame this window appears.
Obviously this looks suspicious to us when normally you can't even hit 'ban' on an already banned members account, as shown here.

Rather than click the 'ok' button and risk something more insidious, I came here immediately to see if anyone had any idea about it or if I'm simply being paranoid.
Furthermore, I'd like to know if I have any options to stop people from doing this in the first place. I've already turned on the setting that keeps people from posting external links for a week after creation. However that seems a poor defense since anyone who really wants to cause problems and is willing to right a line of code at all to do so is willing to wait. Requiring each account to be verified can be circumvented with a VPN, same as the original ban was.
I would appreciate any assistance in this matter.
Thank you.
New

Member




Posts

: 2


Reputation :

1


Language

: Wouldn't you like to know?




hello

you can ban the user's ip and email but unfortunately, there is no way to prevent him from registering again in your forum if he uses different IPs or emails

the is a method called the dog house ...
the dog house is nothing more then a hidden group you place members in with no permissions to anything on the forum..
you don't ban them, they are just stuck in there, and when they try to come back with new ip you just add the new account again in that group...
sooner or later they will get sick of being put in the group and just move on, or at least that is the plan...

where exactly do you see the ban option?
cause from the picture in the administration user field i only see the banned reasons
Man

ager





Posts

: 8833


Reputation :

1157


Language

: English,Greek


Location

: Greece



New

Member




Posts

: 2


Reputation :

1


Language

: Wouldn't you like to know?



So instead of showing the reasons like the first image shows again the ban option right?
Is the profile template modified? If yes try to put the default to check if the issue insists

edit: we have some css/templates issues at the moment so i wonder if this is caused by this
Man

ager





Posts

: 8833


Reputation :

1157


Language

: English,Greek


Location

: Greece



When you ban your members you need to make sure you ban the IP address and Email address.
You can do this in your ACP.
Sadly you can only ban the IP address if it's got a host, The bad thing is some mobile providers change the IP address every time you log on to the internet so it's hard to ban the IP address as it will change every time
If your member has a host address linked to the IP address you can always ban the host but this means you will ban every one with the same host. This is never a good way to do it but it can be done.
Admin

istrator





Posts

: 15553


Reputation :

1673


Language

: fluent in dork / mumbojumbo & English haha



---
Permissions in this forum:
You
cannot
reply to topics in this forum