Page 3 of 3 •

1, 2, 3
First topic message reminder :
FM Design Established On:

08/01/2013

Presentation Last Updated On:

07/23/2017


Address: http://fmdesign.forumotion.com/
Description: A forum that aims to provide plugins, themes, promotion, and more..totally free. I try to take my time in developing new features to help improve your forum experiences. We're a friendly, open, inviting community, so don't be afraid to participate.

Administrators : Ange Tuteur, JerriLeah7
Graphic Designers : Valoish

Website & Forum Discussion



Announcements and Important topics

Suggestions and Bugs

Coding, Resources, and Plugins


Official Tips, Tricks, and Plugins

User Tips and Tricks

Learning Resources

Coding and General Questions

Services


Forumactif Edge

Graphic Design

Themes

Promotion

General


Introductions and Farewells

General Discussion

Forum Games

Miscellaneous

Last edited by Ange Tuteur on July 23rd 2017, 7:45 pm; edited 10 times in total
---
Long time no see everyone. It has been awhile since I released any new tutorials, but this week I took a brief break to work on some new goodies for everyone.

I've released two recently for the mention system, and I'll be releasing another
fun tool
next week. Here's what's new !
Tutorials
Below are some of the recently released tutorials on the forum.
1.
Auto-suggest @mentions as You Type
This plugin for the editor auto-suggests you usernames while you're typing a @handle ( mention ). Clicking the suggestions or pressing enter will automatically complete the @handle so you can save time typing ! Plus to make the mentioning system more user-friendly this plugin auto-inserts quotes, so you don't have to worry about failing to tag anyone ever again !

2.
Nicknames for @Mentions
This is a silly little plugin that will allow your members to personalize their mention @handle with the nickname that they prefer, without having to change their username on the forum.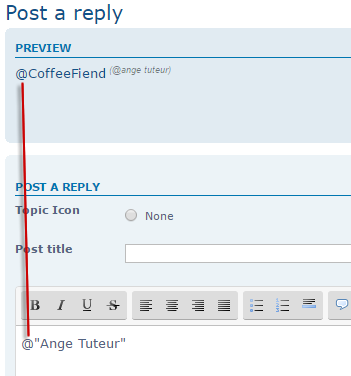 Other news
In other news..
Graphics
We've recently opened a
request section
for graphics and a new section for
theme auctions
. Need an image ? We'll make one for you !* If you're not in a requesting mood, have a look through our
gallery
!
*Please make sure to read the rules before requesting.
Support
I've resurrected the old "questions" section. Need help with coding or just have a question ? No problem ! Visiting our
general questions
section and we'll help you ASAP !*
*The people helping you are voluntary and will answer your questions during their free time, for FREE.
Learning
The new
Learning Resources
section was created recently in an attempt to help teach people about web development and coding. New tutorials and resources will be added overtime when I'm free. The first topic in this section will provide you with the necessary websites for studying, see the following link to learn more.

http://fmdesign.forumotion.com/t776-learning-web-development#15637
Heeeeeeey TGIF ! This Friday I've got a fun new plugin for all of you.

GIFActif - Giphy Button for the Editor
What is GIFActif ? GIFActif is a Giphy search plugin for the free forum service, Forumotion aka Forumactif. GIFActif adds a new button to the message editor that gives your members the ability to search for GIFs and attach them to their messages without ever leaving the page ! Why express yourself with just words alone when you can add a GIF to your message to liven things up ?
Tutorial Link :
http://fmdesign.forumotion.com/t994-gifactif-giphy-button-for-the-editor#20290
Have fun and see you next time !

Back again with another new toy for you guys ! Ever want to have your own personal list of emoticons on a forum ? Well now you can !
User-generated Emoticons
This plugin gives your members the ability to create their own personal list of emoticons which they can use in the editor. It's a great addition if you want to give your members the freedom to use the emoticons that they prefer ! These custom emoticons are unique to each member, and display at the top of the emoticon list by default.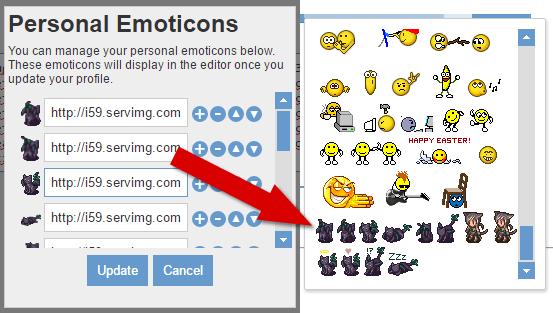 Tutorial Link :
http://fmdesign.forumotion.com/t1012-user-generated-emoticons#21094
We also have an ongoing Auction for a new theme. Want to get your hands on it and only yours ? Better hurry up and get bidding !
Auction Link :
http://fmdesign.forumotion.com/t1011-auction-azure-gaze#20936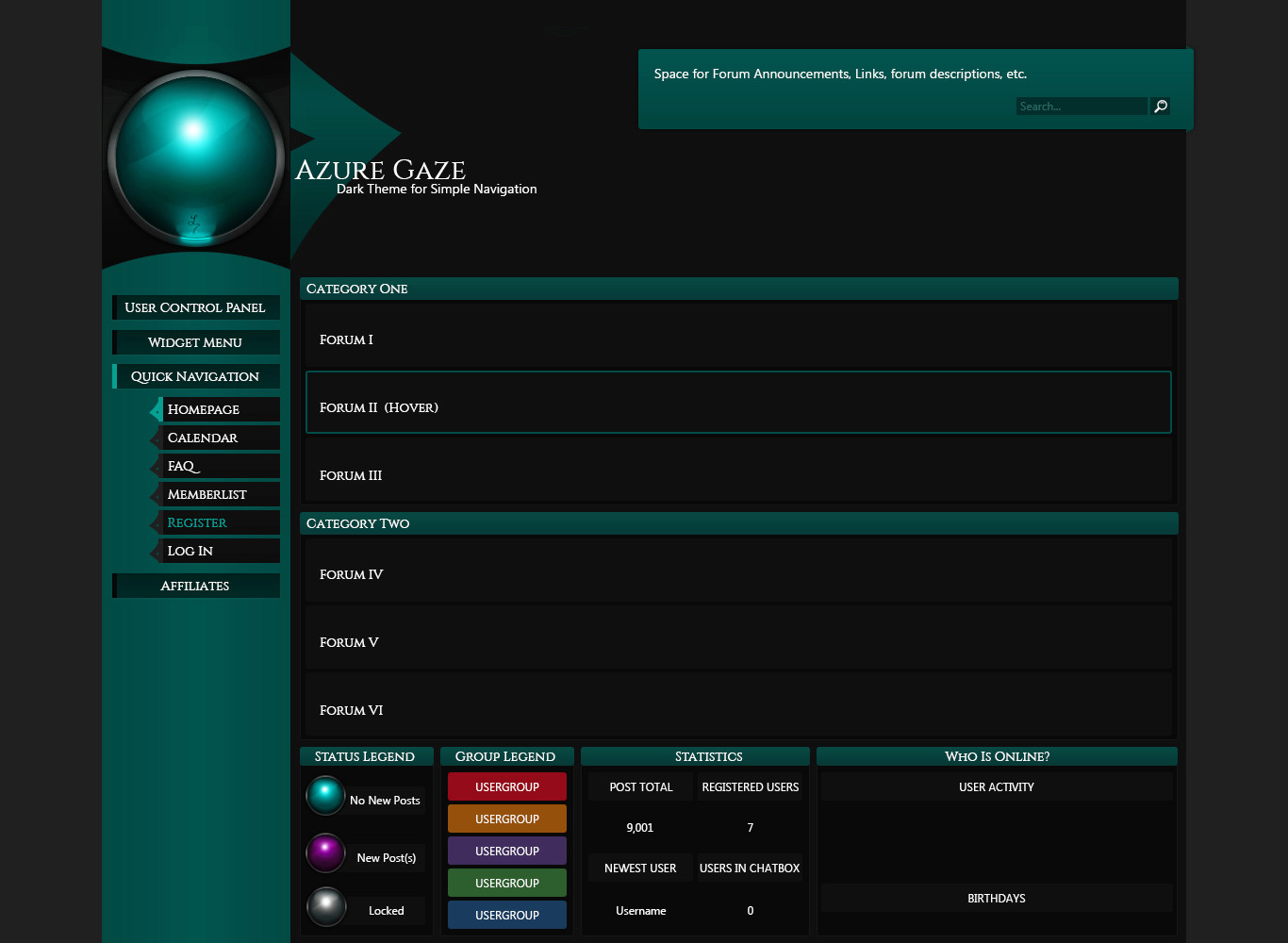 Long time no see, everyone ! I come with yet more tutorials that you can apply to your forums.

Live Search
This plugin enables search bars to automatically search for topics as you type. Searches are performed with the wildcard(*) to ensure that you get results without having to type the entire word.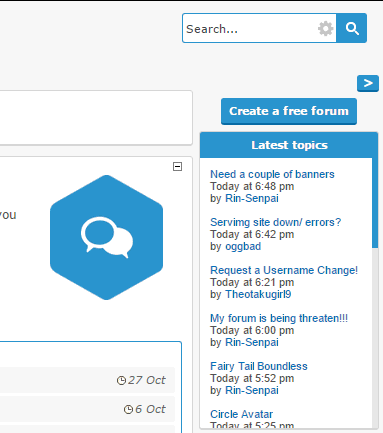 Tutorial link :
http://fmdesign.forumotion.com/t1118-live-search#26404
Display a Preview of Groups on Hover
This plugin displays a preview of groups when you hover over them on the legend, allowing you to quickly view a brief summary of the group.
Tutorial link :
http://fmdesign.forumotion.com/t1030-display-a-preview-of-groups-on-hover#21553
See you next time and have fun !
Welcome back buddy! Long time no see, Great to see you back in business with another great tutorial / mod .



Graphic Design Section Rules
||
Becoming a Designer
||
Graphic Requests
Graphics Request Form
Make sure to check out our FREE Graphic's Gallery
No support provided via PM!
It has been ages since I last made an update, so here's some of the latest tutorials that have been published recently.
Copy Code
In this quick tutorial you'll find out how you can add a copy code button to your Forumotion forum, similar to the one that's on Forumactif Edge. Clicking this button will automatically copy the code contents to your clipboard without having to right click or CTRL+C !
Tutorial Link :
http://fmdesign.forumotion.com/t1337-copy-code#30216
Forumactif Messenger
In this topic you will learn about Forumactif Messenger and how to install it on your Forumotion forum. Forumactif Messenger is a JavaScript plugin that integrates with your Forumotion forum to enable real time messaging in topics in a minimal design to make the experience more engaging.
Tutorial Link :
http://fmdesign.forumotion.com/t1378-forumactif-messenger-instant-message-application-for-forumotion#30691
Emoticon Search
This plugin adds a search bar to the emoticons list to help make finding a specific emoticon easier. It's an ideal plugin to have if your forum has a large list of emoticons !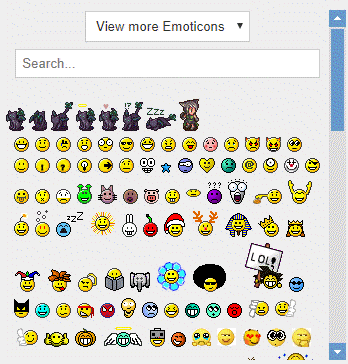 Tutorial Link :
http://fmdesign.forumotion.com/t1384-emoticon-search#30743
Page 3 of 3 •

1, 2, 3
---
Permissions in this forum:
You
cannot
reply to topics in this forum