I have never had this issue before, until I got an iPhone 6 yesterday.
Here is the site URL: 
http://rosterwars.forumotion.com/
The issue I am having is that when I go to post something it lags like crazy and it ends up freezing on me.  It seriously takes like 30 seconds to type 1 letter.  And eventually it just stops and freezes.  Then I have to double click the home button and close safari altogether in order to try again.  Trying again does the same thing.  I asked the forum admin about it and they had no idea why it was happening.
I'm a member of another site which uses forummotion: 
http://www.gridirontavern.com
My phone is fine on that site. 
It's really weird.  Can anyone help me out?  Perhaps forummotion just isn't optimized for iPhone 6 yet?  Honestly, IDK and I'm grasping for straws, but any help/thoughts would be greatly appreciated.
Thank you!

Racktacular

New

Member




Posts

: 3


Reputation :

2


Language

: English



Hello there.

I have just ran a test on my Iphone 6 on safari and found the same problem. This is not the case when trying it on my Firefox on the same phone.

when looking at this i think your find that some items are not hosted for the safari browser on the Iphone 6 and that forum. it is having problems with some of the forum settings that just don't work with safari right now, This is not a problem with our forum system it's a safari problem.

APE
Hello
We don't have Iphone 6 to make tests on your forum. On computer, there is no problem on your forum: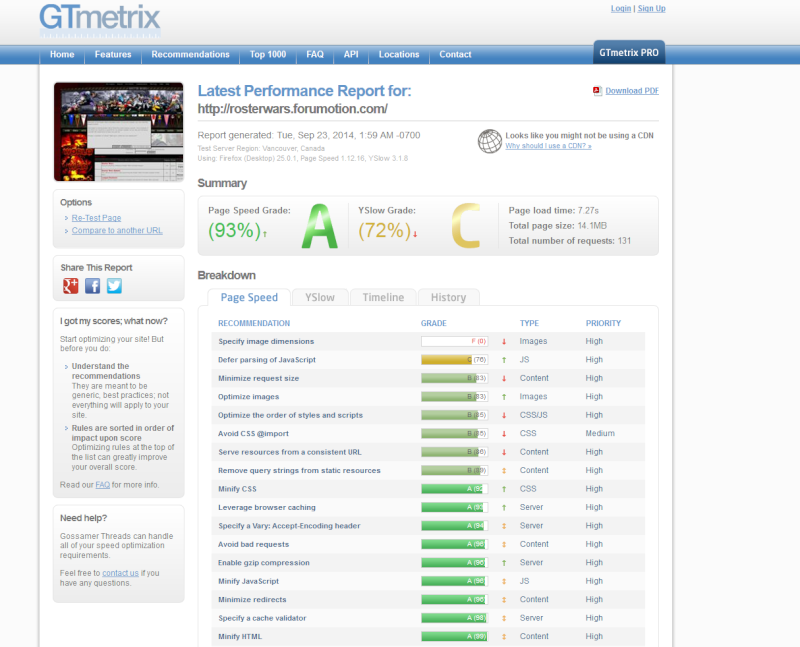 @APE: if you have time to make some tests on your Iphone 6 with other forums, it could be very useful

Thanks

Shadow

Admin

istrator





Posts

: 16203


Reputation :

1805


Language

: French, English



I have ran a number of tests and found no other problems it only looks like that forum not 100% sure why that forum is running slow on safari but it's running ok on Firefox.
what is making this a problem. it even runs fine on the support forum.  Try updating your browser to firefox and then try again.
Sorry for the late response and appreciate the help. I have tried Firefox and chrome as well as safari and the problem exists across all browsers. A matter of fact I can't even access the site any longer on my cell phone as I get thus error:

Response Error.

Technical description:
502 Bad Gateway - Response Error, a bad response was received from another proxy server or the destination origin server.

I have contacted the site admin and they are at a total loss as to what is going on.

Thoughts?

Racktacular

New

Member




Posts

: 3


Reputation :

2


Language

: English





When your topic has been solved, ensure you mark the topic solved.
Never post your email in public.
---
Permissions in this forum:
You
cannot
reply to topics in this forum