Hello everyone, I was in Vietnam, I extremely loved forumotion forum and I've been using it for 4 years.
However, my blog has started going out last night error condition.
I can not access topics in the forum and notifications appear 1 maintenance.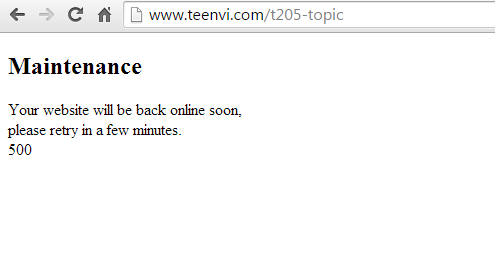 Why so? please, please help me, thank you very much.
My forum: 
Dien dan Teen Viet online
Hello,
Have you tried using a different browser?

-Brandon


Remember to mark your topic

when a solution is found.
Thank you very much, the problem has been resolved, I think this is due to the campaign conducted forumotion maintenance Forum
Your welcome anytime

.
-Brandon


Remember to mark your topic

when a solution is found.
I have not heard of a maintenance today.  Was this happening on all Vietnamese forums or every forum hosted by Forumotion?

When your topic has been solved, ensure you mark the topic solved.
Never post your email in public.

@SLGray
I got no maintence on my forum. So maybe just vietnamese.
-Brandon
Last edited by brandon_g on May 20th 2015, 2:12 pm; edited 1 time in total
Hello
Could you please us when you get (date + hour ) the maintenance page? Do you still have the problem? Thanks for your reply 

I have photographed the computer screen at this time, then, I can not access the notifications topic for maintenance, but I could access all other page in the forum.
It is at 22 pm on 18.05.2015 in the time zone of Vietnam, maintenance is terminated on the morning of 19/05/2015, about 9am.
I am committed to what I say absolutely is true.
Until now, my forum has returned to normal.
I'm sorry if what I write makes you hard to understand, because I use google translate.
I love forumotion --- <3
That's okay. I think we can consider the problem as solved. If you get the problem one more time, let me know.
Regards
Buttercup
---
Permissions in this forum:
You
cannot
reply to topics in this forum