Hello, I wonder if anyone can help (and apologies if this is covered elsewhere)
Can I draw your attention to the top line of my screenshot.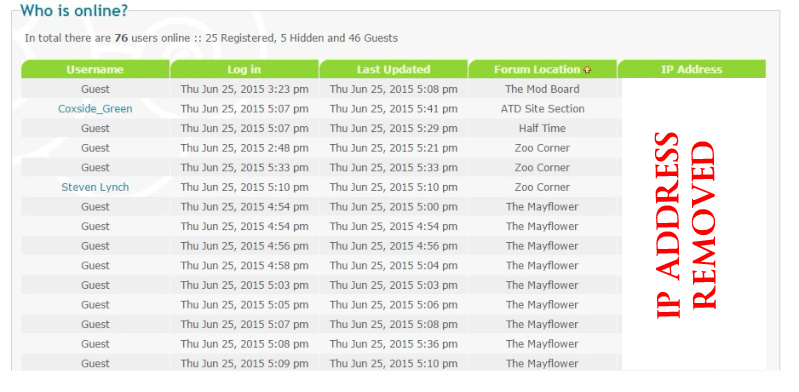 Yesterday I managed to get a screenshot of a "Guest" viewing our Mod Board. Our Mod Board is Admin/Mods only and all the settings are correct. Our site is usually under constant attack from a rival site and I am worried that they have managed to hack our site.
Or am I just being paranoid and its a harmless bot?
Any help would be much appreciated
Last edited by APE on June 27th 2015, 6:41 pm; edited 1 time in total (Reason for editing : Fixed Screen shot to remove IP Address'es)
If you have it set up correctly, guests will only see the log in page even when they are viewing areas not visible to guests.

When your topic has been solved, ensure you mark the topic solved.
Never post your email in public.

I will also add that if you have a post or thread that was open to the members and then was moved there if some one has Watched that post and they click it .. all they will see is
Sorry you do not have permission to access This thread / post
So there for any linked post will show up as a Guest reading that post even if they are not
also if your Mod was logged in and then was reading that thread in that part of the forum and then loged out they will get the same
Sorry you do not have permission to access This thread / post
it will show up in your ACP as a guest is reading it but there is nothing seen by anyone really

NOTE TO MEMBERS:Please make sure you remove any IP addresses in your Screen shots for security reasons

 



  I have Removed them for you this one time
---
Permissions in this forum:
You
cannot
reply to topics in this forum