I know this topic has been posted before but I couldn't find an answer to my problem in the forum help or the archives. If I missed it, then I apologize for posting this.
I was cleaning up my forum and I accidentally deleted the wrong one. I looked at the How does a back up work tutorial and I followed the steps, however today's date isn't there on the Restore Forum Such As It Was dates. Posts were made today and if I back up to the last date, I won't be able to do the back up again to retrieve all posts made from the last back up listed.
My forum address is
http://tempestisle.forumotion.com/
Here's a screen shot of the Utilities page.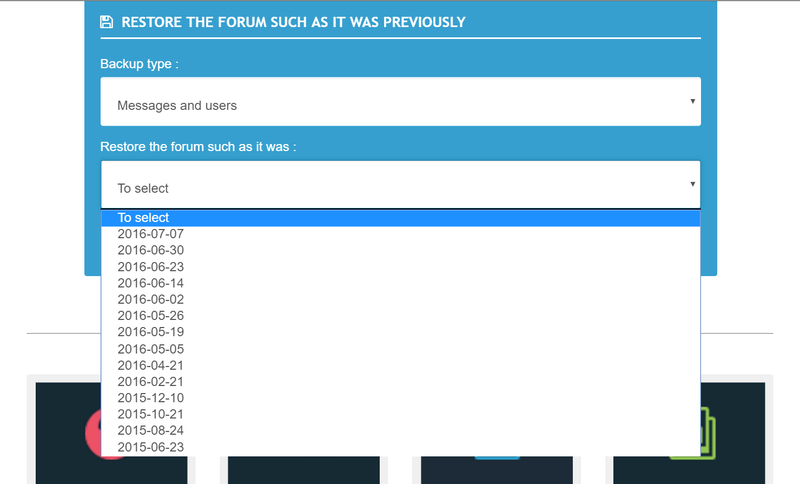 SilverMystik

New

Member




Posts

: 3


Reputation :

1


Language

: English



Check in the Messages and Users drop down menu. Since you are talking about topics and posts.

When your topic has been solved, ensure you mark the topic solved.
Never post your email in public.

Today's date will not be in the backup list it is added once a week on a Thursday i Think and its at late at night as to not slow your site down when really busy.
I think your need to do a full backup as its the layout of the forum that is changed then you need to do the date at the top of the list that should backup your forum to how it was before you did the backup and all your posts and layout should be back to how it was before you removed the parts you removed

So if I do that, what happens to the messages that were made after the last back up date? Are they still there? I'm sorry if I'm being a pain but honestly, that's where my confusion is coming from.

SilverMystik

New

Member




Posts

: 3


Reputation :

1


Language

: English



if i remember rightly if you do a backup to a later date it will save your posts and threads on the date you see at the top of your screen.
then when you do a backup again it will install the posts and threads back as it was before the backup.
so all your posts should be safe

Remember you must have your forum admin page open and your tools open in a new tab on your browser. Do not leave the founders tools page until the system has done what it needs to do and tells you its complete
Backups can take upto 20 mins to go over from our servers so when your done doing your backup refresh the page on your forum and then do a forum resynchronize
Hello,
You should do 2 backups, one for an older date and one for the most recent date. From my experience from back ups and from what we have been told in the past, the posts and threads will not be deleted per say, so long as you do the back ups correctly and back up the older date then again to the most recent date available. The posts and threads will still be there, HOWEVER, the index if your forum, where it says the most recent post in a section and the number of topics and such will be off and look weird, as the back up will restore these to what it was at the time and date of the back up. What you will probably have to do, is go around to every section and bump up the most recent topic/posts to make the forum look back to normal again. I have had to do this a couple of times on my forum and it is weird at first and it may look like the posts arent there by looking at the index, but when you go to view the actual section, you will see they actually are still there abd you just need to bump it up (make a new post in it) to make it re show up as the most recent post.
You should also note, that any posts or users deleted after the most recent restore date, will re appear and no longer be deleted and thus if you want them delted or whatever, you will need to re delete them again. The same applies to any locked topjcs or moved topics, etc.

I hope this clears things up for you a little bit?
-Brandon


Remember to mark your topic

when a solution is found.
It does clear things up. I'm going to try it and see what happens. Thanks.

SilverMystik

New

Member




Posts

: 3


Reputation :

1


Language

: English



Hi,

Is this topic now solved?

Derri

Help

er







Posts

: 8713


Reputation :

629


Language

: English & Basic French


Location

: Scotland, United Kingdom



---
Permissions in this forum:
You
cannot
reply to topics in this forum