hello my members/moderators dont have permission to search their topics/posts from their profile menu
only admin can
if they click these options from the menu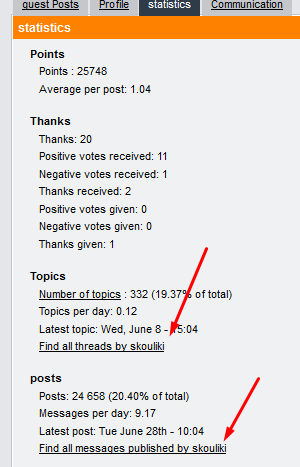 this message appears .
The same error message also appears when they try to see other members statistics from profile menu 
http://keeponblogging.forumotion.com
 / invision
Last edited by skouliki on July 27th 2016, 7:21 pm; edited 1 time in total


Hello,
Sounds like a permissions problem.
Try going to ACP-->Users and Groups-->Special Rights-->Try checking every one to atleast members until the problem is sorted. Personally, I think the most likely of those to be causing this issue is the first one which is 'Search', check to make sure this one is at 'Members' atleast and hit save. Once you do that, try seeing if the problem is solved by asking your users to check. If it is still not solved, then try playing around in there until it is. I am pretty sure the issue lay somewhere on that page with one of those permissions, so play around with those if search doesnt solve it until it is fixed.

Hope this helps,
-Brandon


Remember to mark your topic

when a solution is found.
thanks
@brandon_g
the search option was the solution you are right ... i check the special rights but i didnt think of the search



Your welcome, anytime.

-Brandon
| | |
| --- | --- |
| | Problem solved & topic archived. ~ brandon_g |


Remember to mark your topic

when a solution is found.
---
Permissions in this forum:
You
cannot
reply to topics in this forum