Some of my website members have iPads and or iPhones . Some are reporting extreme difficulty accessing my forum / website .

Android users do not seem to have any of these problems .

What can I tell these iPad and iPhone users about browsers or apps that will make the forum / website more user friendly ?

Please try to be specific with your response . As I am not familiar with iPad / IPhone usage at all .

Thank you

Paul
Hello,

Can you ask these users to explain exactly what happens when they try to access your forum via an apple device? Do they get an error message or something?

Also are trying to view the site on classic version or mobile version when the issue occurs?

-Brandon


Remember to mark your topic

when a solution is found.
General Rules
|
Tips & Tricks
|
FAQ
|
Forgot Founder Password?
Team Leader
Review Section Rules
|
Request A Review
|
Sticker Points
Man

ager





Posts

: 9869


Reputation :

902


Language

: English


Location

: USA



Hello,

We have had a report about this before and we found if the member is to tick the stay logged in before trying to log in this helps.

also if they are using macOS - Safari - Apple browser then this is also a problem with our systems.
Please ask your members to use some other browser and then try again making sure they tick the "Stay logged in tick box before logging in"
Admin

istrator





Posts

: 17751


Reputation :

1899


Language

: fluent in dork / mumbojumbo & English haha



Hey
@azwiz
, how ya doin'? I'm using an iPhone myself (using a Safari browser), and a Sony Z-series and sometimes it helps to clear cookies and cache to straighten up stuff on the Apple. I hardly use my phones to check my forum, but sometimes I do. Idk why the classic version on my forum is (still) not working on my Apple, even after clearing cache and all, but that's another issue, not related to yours. Hope this helps.
Foru

member






Posts

: 80


Reputation :

7


Language

: US English / Dutch


Location

: 35 miles NWW of Los Angeles Airport (LAX) when able, currently living 1 mile SWW of Amsterdam Airport (AMS).



Thank you Brandon Ape and SWS . I will message them and try to get some specifics . I will get back here as soon as possible . Thanx again for your attentiveness .

Paul

Here is one already .

[quote user="Textor"]For mobile players, they may find it hard to access the web site from safari, the default browser on an iPad or an iPhone. The link you provide is not helpful to a mobile player. Mobile players need to know that the web site can be accessed with the Puffin app., where one can register, and, if they're like me, they'll never use again. It's, simply, too much for the mobile browser. I had to register from my workstation.[/quote]

Yes Textor seems to be saying that " it is too much for his mobile browser " .
Here is another and my response to him .
Mca19670:
Right Paul, I'll try and explain this best I can without pics. When any member who has what must be an iPad types in
www.valleyofthesun
at the top on their browser the website comes up in a forum style. F1 at top right down to F12. I clicked on TWTW which I think was F3. From there I could access all the bulletins. They just don't come up the way it appears in the real website. If I can remember right, when I first joined I had an issue signing up and you did it for me, but there was an option of the classic view or standard view on the tablet at the time, but it doesn't look like that options available now. Basically if I want to go onto the website and see it in all its glory I need to do it through the puffin app. Hope this helps you a bit boss.
Martin
Yes Martin . This will help me and support know the issues . And what to try to eliminate annoyances .
I'm guessing they get a screen something like this
Or like this .
The correct Mobile version screen .
You should have this option in your settings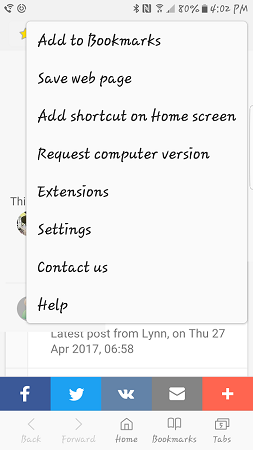 To request computer version .
To look like this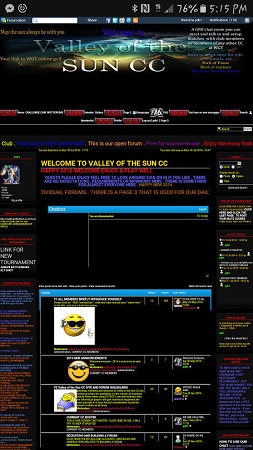 Or the reverse request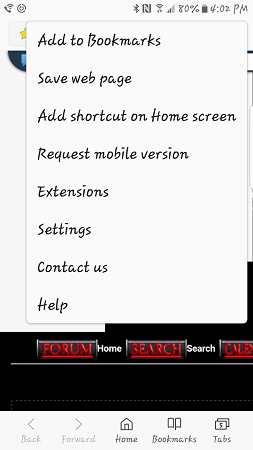 Back to this
I think this is what we are talking about . I guess the answer is those 3 bars on the top upper right that give you the version options . Find those on your own phone and see what happens .
Similar topics
---
Permissions in this forum:
You
cannot
reply to topics in this forum