ModernBB
www.thezonegroups.forumotion.com
Founder
Can you please explain who the "guests" listed in the users online section is?
Members are asking and worried those guests can see their info in the forum.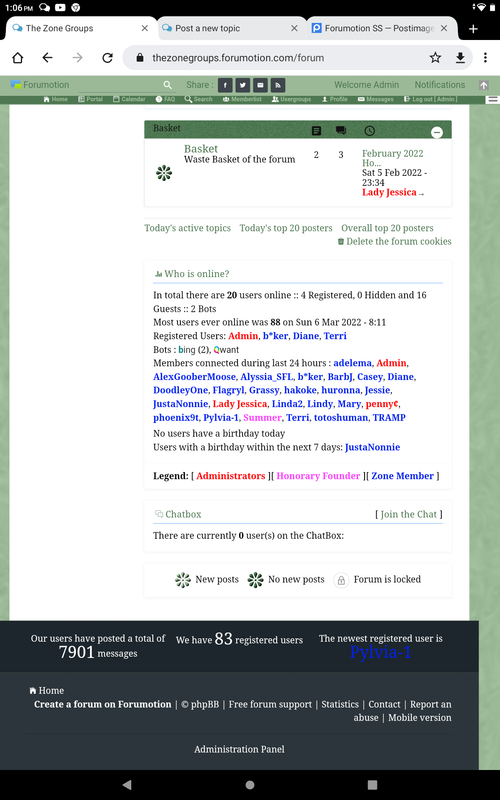 Thank you.
Last edited by penny¢ on March 21st 2022, 5:12 pm; edited 1 time in total
hello
the guests permissions can be set to each category or forum from the admin panel ...so depending on your forum settings 
https://help.forumotion.com/t138466-permissions#937548
if you go to the admin panel / home and scroll down you can see the guests ips
the guests are just visitors or sometimes Google, Bing and other search engines send crawlers by the web so this will show up as a guest on your site
Man

ager





Posts

: 12687


Reputation :

1544


Language

: English,Greek


Location

: Greece



@skouliki
thanks for the explanation. Can they see forum content and member info?
Yes, if you have it setup that way.


When your topic has been solved, ensure you mark the topic solved.
Never post your email in public.
Admin

istrator





Posts

: 50441


Reputation :

3478


Language

: English


Location

: United States



Just to add if you can see your forum without logging in your self then this is what any one can see.

Please note that even if you hide the forum to none members you will always get the name guest on the forum tools as guests will see the login page and this can't be helped and there is no way to stop this.

also note that if you hide your forum to non members then you risk your forum not getting a lot of new members as they can't read what your forum is about or what you are all talking about.

My advice is to have your forum open to guests to show them what your forum is about and what you are talking about.
You and your members should not be posting anything that the public should not see any data not worthy to show in the public eye should not be on the forum if they don't want the others to see.
Admin

istrator





Posts

: 17964


Reputation :

1913


Language

: fluent in dork / mumbojumbo & English haha



@Ape
I personally saw no problem with the way it was, but the members were worried that "guests" could see their personal info...email, address, etc...
I have removed all but our mission statement from the portal and they are now happy.
No, we have nothing that the public can't see, LOL, in fact we are all about showing our creations off as it supports the artists we use.
Thanks for everyone's help and have a great day!
| | |
| --- | --- |
| | Problem solved & topic archived. |
Man

ager





Posts

: 12687


Reputation :

1544


Language

: English,Greek


Location

: Greece



Similar topics
---
Permissions in this forum:
You
cannot
reply to topics in this forum