Hi, i am trying to get rid of the duplication on my forum where its highlighted in red circle and says "announcements/Help how to" and "Your tank(s) setup" as its already there in the title. Can someone help guide me in removing this duplication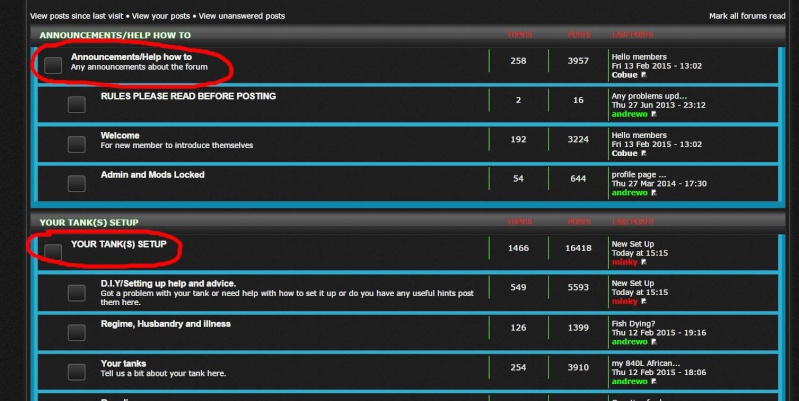 Thanks
goto acp>display> Structure and hierarchy

 i think its one of the medium options
Thanks for getting back, i tried them options but it still doesn't work here are a few pics to show when i make it medium.
Split categories in index (medium)
And this is the keep categories in index (medium)
They both concertina up now without showing the areas under each title
It appears you may have created a forum and category of the same thing. Try deleting one of these.


Remember to mark your topic

when a solution is found.
cathleenwitmer wrote:For warning bars: ACP-->Users & groups--> Profile fields management--> Add profile field.

For userbars (ranks) ACP-->Users & Groups-->Rank management---> pick your rank and names and such and save 

.

Hope this helps,

-Brandon

____________________________________

imran
Not mention the member clearly copied and pasted that reply that
I
 wrote from another topic, considering it is signed Brandon and unless the user is named Brandon (which I doubt they are), the text in that users post was copied and pasted and therefore even if it were in the right place, would be plagiarism.
I apologize for driving this slightly off topic but I wanted to also point that out.
As for this topic, please try what I stated earlier.

---
Permissions in this forum:
You
cannot
reply to topics in this forum