Technical Details
Forum version :
#phpBB2
Position :
Founder
Concerned browser(s) :
Safari
Who the problem concerns :
Yourself
When the problem appeared :
It just happened yesterday.
Forum link :
http://winxclub.site-forums.com
Description of problem
Hello. I was visiting my forum yesterday then I changed its version to mobile version, mainly because it's hard to load when I post because of the smilies. Then, when I was about to change the version to the original version, I cannot change it because the button that allows us to see the original version, log in, and go back to the main page is gone.
Last edited by Titania on July 17th 2015, 3:10 pm; edited 1 time in total
Was there not a link at the bottom of the forum for changing the version?


When your topic has been solved, ensure you mark the topic solved.
Never post your email in public.
There ain't. I'm using the mobile version and the only way, I think, to change it back to the original version is by the the button at the bar placed on the top of the screen. I'm using my iPad.
Hi
@Titania
,
Does this happen in a particular area ? ( the button not appearing ) Normally when it doesn't show up, it's caused by a JavaScript error. However, during emulation on the mobile version all appears fine, which means it might be an incompatibility somewhere.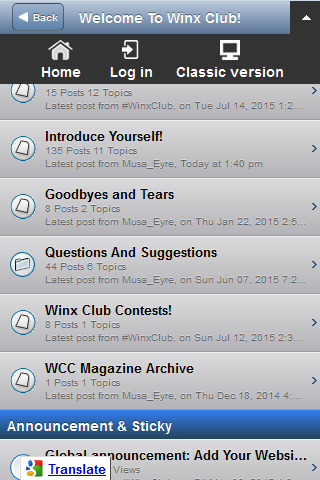 To try and rule out the cause I'd recommend first disabling JavaScript codes management to see if it's the cause. You can do this by ticking "no" and clicking "save" on the JS management page. Once you do that go to the mobile version to see if the arrow is visible.
If it is, then re-enable JS codes management and begin the process of elimination by editing 1 script at a time to uncheck all it's placement locations and save. Then simply return to the mobile version and refresh the page to see if the problem is persisting. Just repeat this until the button is visible, then you should know which script is causing it. Once you have it, you can post it here for me to look over.
It happens in every area. I will try your suggestion later.
Edit:
After deleting some scripts, the button showed up. Thank you for the help, guys!
Topic solved and archived
---
Permissions in this forum:
You
cannot
reply to topics in this forum