Hello
I have asked Ape, however he is far too busy to assist.
I am trying a new board, however I would like to improve the profiles of members as the same as I have on my main site.
Example is from my main site
Example from my new site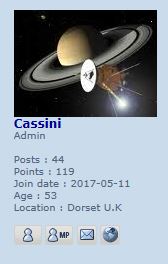 My IT skills is basic in the admin panel, and I prepared to allow any graphic designers or forumotion manager
access to the admin panel. I will in the next few days buy a SSL certificate for the new site.
Regards
Cassini
Foru

memb

er






Posts

: 448


Reputation :

13


Language

: english


Location

: Dorset U.K



Hey, there,
@Cassini
.
I would be glad to assist you. Are you looking to get the exact same layout and designs from your previous one? or something completely different?

NEVER provide your founder's account or email
Please provide forum's URL when dealing with design and appearance issues
Don't forget to mark the topic as
when the issue is resolved. This helps the staff greatly.
PM Support is prohibited!
TOS | General Rules | FAQ | Tricks & Tips | Latest Updates | Introduce Yourself
Support Mod

erator





Posts

: 2455


Reputation :

312


Language

: English


Location

: USA



Man

ager





Posts

: 9089


Reputation :

1188


Language

: English,Greek


Location

: Greece



Just add IDs to your profile template and mess around with CSS.
Foru

memb

er






Posts

: 365


Reputation :

8


Language

: English/Arabic


Location

: Baghdad - Iraq



Near enough the same, however a two tone blue skin I have an eye problem and find white too painful to look at for too long. However if you can change the skin to something similar as my other board, or just swap the colours over that would be great. As for buttons can the delete and IP be Weather Icons,
I have just changed the skin, however feel free to play around
Buttons
Or Topic (TV Box) and Reply (Microphone) these are just a few ideas. Do you want me to create an account for you
Finally if the category square box can be changed to something similar or resembling a TV or Satellite dish
The theme is Television, if you have any better ideas and want to try them out please feel free, if we have a new design then you can take the credit for it.
Thank you very much for the offer of helping, much appreciated
Regards
Cassini
Last edited by cassini on May 14th 2017, 8:41 am; edited 1 time in total
Foru

memb

er






Posts

: 448


Reputation :

13


Language

: english


Location

: Dorset U.K



Man

ager





Posts

: 9089


Reputation :

1188


Language

: English,Greek


Location

: Greece



---
Permissions in this forum:
You
cannot
reply to topics in this forum