Hi,
Firstly my apologies but I'm not a web developer/techie, I just administer a forum:
http://ukengineforum.forumotion.com/
I've been reading through your tutorial on moving to HTTPS and when I got to section 3.4. Webmaster tools upgrading I followed the link to Google Search console.
I copied
http://ukengineforum.forumotion.com
to the url prefix box and clicked Continue.
I was then asked to 'Upload an HTML file to your website'.
I can easily download the file to my PC but how do I upload to my forum and where do I store it?
Thanks in advance
Paul
Last edited by Paull on Sat Jan 11, 2020 10:19 am; edited 1 time in total
Foru

member






Posts

: 56


Reputation :

2


Language

: English



Google wants you to upload that html file to the forum to check that it is indeed yours. On forumotion, that's not possible since it is a hosted forum. There are other ways to verify ownership though. Scrolling down the popup, you should see something similar to this: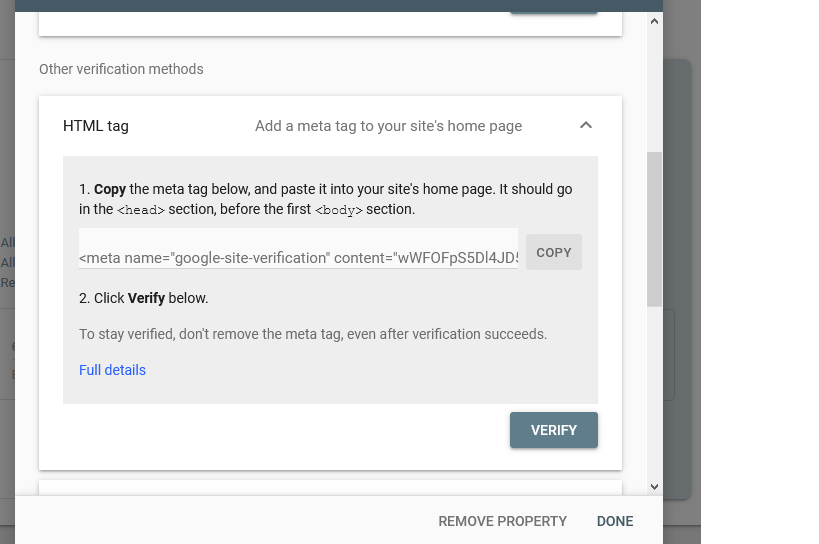 Copy the meta tag code, then go to the Admin Panel->Display->General->the overall_header template. In that template, look for
, paste the code from google there, save and publish.
After this, press the Verify button in the google search console. This should do it

Guest

Guest





Hyper

active






Posts

: 2126


Reputation :

91


Language

: spanish


Location

: SSF Admin



So you are trying to convert to https?  If yes, are you sure that you followed the instructions correctly?


When your topic has been solved, ensure you mark the topic solved.
Never post your email in public.
Admin

istrator





Posts

: 50253


Reputation :

3466


Language

: English


Location

: United States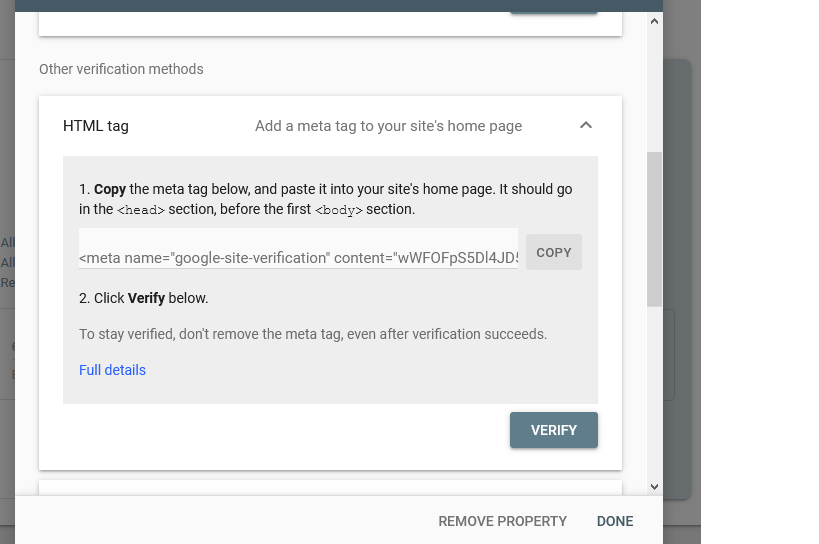 You can also add the meta tag to the following part of your forum. 


 Admin Control panel settings:

ACP >> General tab >> Forum promotion >> Search engines >>
scroll to >> Additional tags then Press the green + you will get the following box and settings.
Now you will see: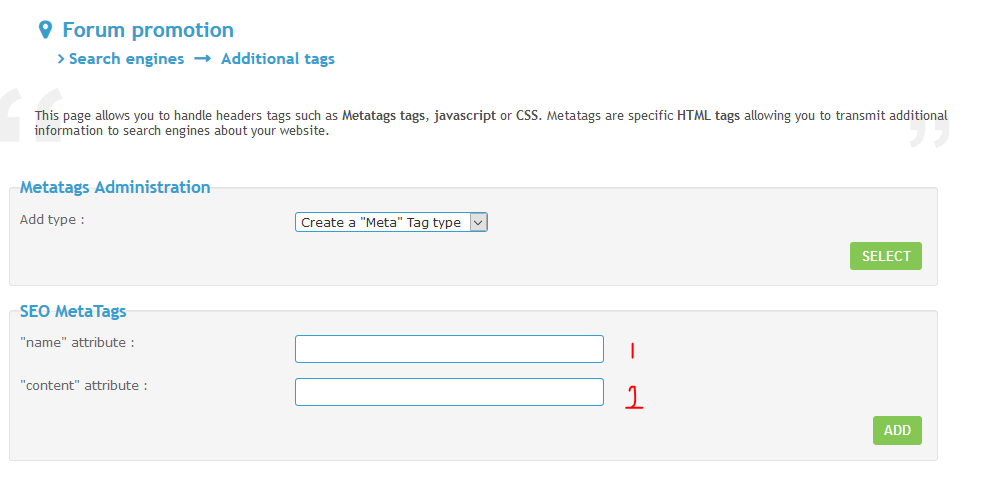 in box 1 you need to put
This part of your code
Code:

google-site-verification
in box 2 you will have to find a code that looks something like this
Code:

M5TAS85i0eNGgaMPrhyGYqik2VlJ0sQqZn19IKYYpMI
You will need to type that or copy and paste it 100% the same as google gives you.
Then save refresh your page and then try and validate your site with google.
if you still have a problem please let me know.
Admin

istrator





Posts

: 17748


Reputation :

1899


Language

: fluent in dork / mumbojumbo & English haha



Many thanks - especially to APE for the concise and easy to follow instructions.
Now verified.
Foru

member






Posts

: 56


Reputation :

2


Language

: English



| | |
| --- | --- |
| | Problem solved & topic archived. |
Man

ager





Posts

: 12471


Reputation :

1528


Language

: English,Greek


Location

: Greece



Similar topics
---
Permissions in this forum:
You
cannot
reply to topics in this forum