......... have stopped working on my PC. I have tried three different browsers but it's the same on all of them.
They both work on my PC and my other admin is not having the same problem.
I have tried deleting cookies but to no effect.
Can anyone help please.
Thanks.
Al.
https://allscalemodelling.forumotion.com/
Last edited by skidsolo on April 18th 2020, 12:42 pm; edited 1 time in total
hello

check your browser plugins
also allow the pop-ups
Are your browsers up to date?


When your topic has been solved, ensure you mark the topic solved.
Never post your email in public.
Admin

istrator





Posts

: 50449


Reputation :

3478


Language

: English


Location

: United States



Hi and thanks for the replies.
I contacted my computer support guy and via remote link, he was able to get back the 'notifications' and the scrolling banner. However, I am now unable to post photos. Again my computer guy hooked up via remote link but could see nothing wrong with my computer and suggested that it may be that some settings on the website have been changed. (not by me I hasten to add.)
I'm posting this via my laptop as I cannot send screen captures or photos on my PC.
This is the normal sequence I am used to on my PC and my laptop: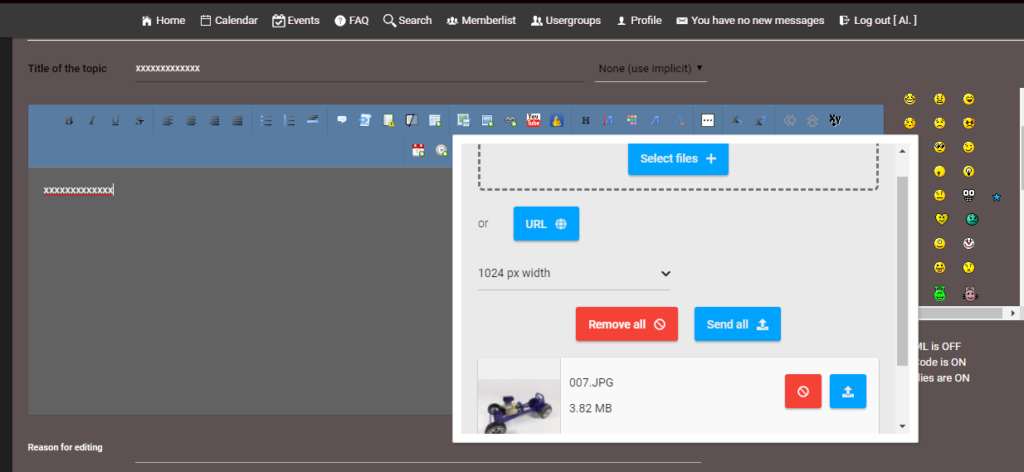 Then of course clicking send all insert the photos.
This is the sequence now on my PC: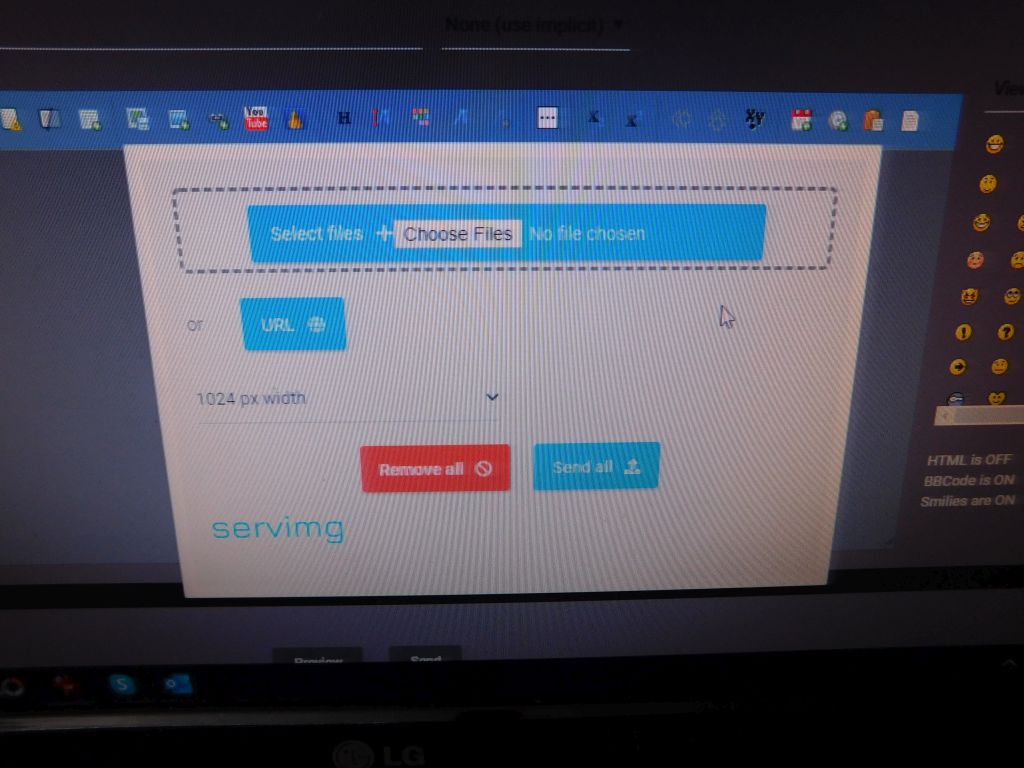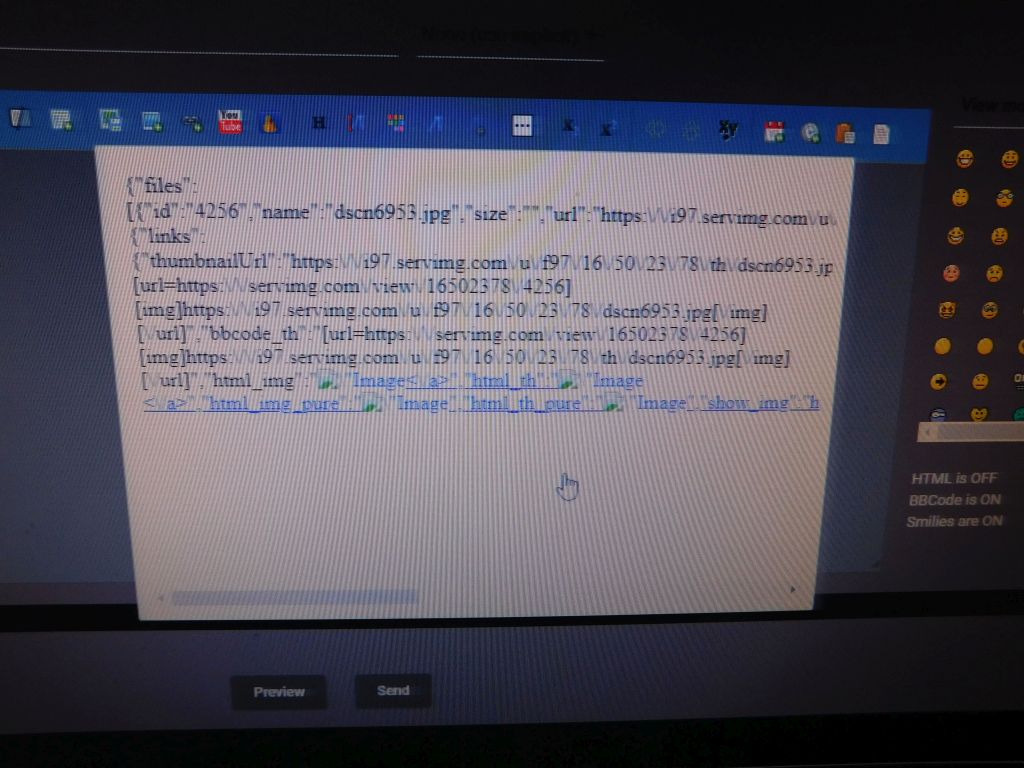 and this is the result: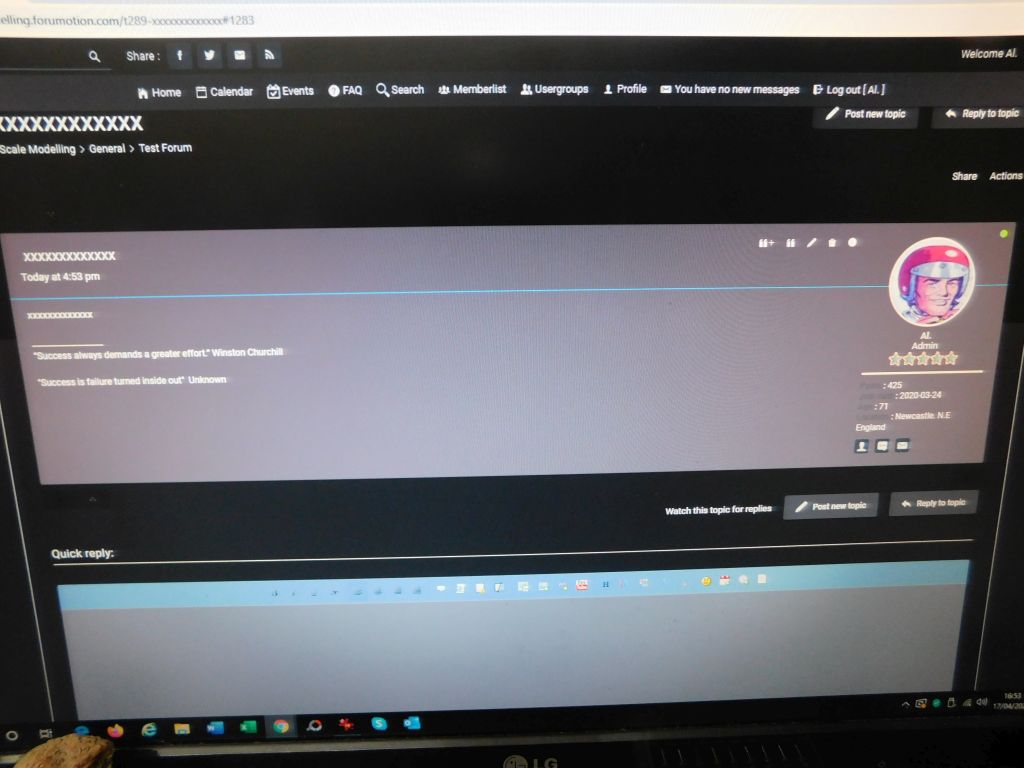 I'm getting frustrated with this as I need to do some photo updates on my site and I,m hoping one of you guys can help.
Cheers,
Al.
Hello,


Are you using Kaspersky's antivirus ?
Foru

memb

er






Posts

: 496


Reputation :

104


Language

: French (10), English (8), CSS (5), HTML (4), Javascript (4)


Location

: Scotland, UK



You must add domain illiweb.com to the whitelist since Kaspersky is known for blocking illiweb.com (which is hosting many of forumotion scripts like editor, toolbar, chatbox)
Foru

memb

er






Posts

: 496


Reputation :

104


Language

: French (10), English (8), CSS (5), HTML (4), Javascript (4)


Location

: Scotland, UK



OK. I assume the 'whitelist' is on the website but I cannot find it. Can you help please?
Spot on skouliki. Got it sorted now.

I'd also just like to take the opportunity to say a big thanks to all you guys, over the last 6/7 years you've always been brilliant in your help.

Stay safe in these troubling times.

Al.
our pleasure
| | |
| --- | --- |
| | Problem solved & topic archived. |
Similar topics
---
Permissions in this forum:
You
cannot
reply to topics in this forum